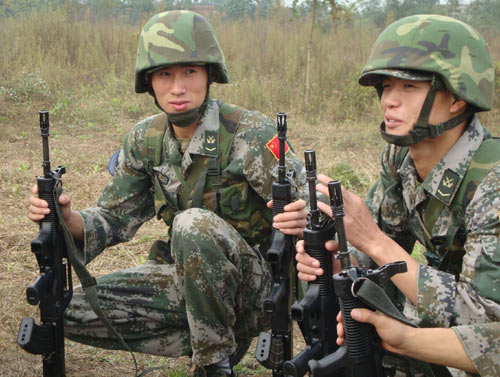 Xie Baojun (left) attends an exercise with his fellow soldiers in this photo taken on Oct 11, 2009, before he was dispatched to Wau, Sudan. [Provided to China Daily]
BEIJING - It should have been a moment of pride for Xie Baojun, a young Chinese United Nations peacekeeper based in Sudan, who won the UN Peace Medal for his outstanding contributions to the mission.
But the 26-year-old soldier missed the medal-awarding ceremony at the cantonment of the Chinese peacekeeping detachment in Wau, Sudan on June 5. He died of a cerebral hemorrhage on May 28 after months of excessive fatigue in the capital hospital in Khartoum, Sudan.
Xie was survived by his old parents and a mentally retarded brother.
Receiving the award on behalf of Xie, Qi Chengxi, Xie's general squad leader, and the other 434 Chinese UN peacekeepers could not hold back their tears.
The medal was to honor Xie, who had given his young life to the peacekeeping mission, Qi said.
UN Secretary-General Ban Ki-moon wrote a letter to express his deep appreciation for Xie's peacekeeping work in Sudan.
"We just cannot believe he passed away and many of the soldiers in his squad always dream about him," Shi Huihao, Xie's squad leader, told China Daily on Wednesday.
Xie was 20 when he became a soldier in the Jinan Military Command. He was one of the three first-class sergeants among the 24 soldiers in his squad.
Shi said Xie was a hard-working man who liked to learn almost everything useful, including English. He was always ready to give a hand to anyone in need.
During the peacekeeping mission in Sudan, Xie took every opportunity to learn and practice English and help the foreign soldiers as well as local residents in daily life.
Every day he got up at about 5:20 am to read and learn English, which was not easy for him with only a middle-school education.
Overnight, he translated the English instructions for a brick machine word for word by using an English-Chinese dictionary, to help his squad speed up their first project to build the security infrastructure in Sudan.
"He is the Chinese Lei Feng in the peacekeeping forefront," Shi said. Lei Feng was a soldier of the People's Liberation Army, characterized as a selfless and modest person.
Most foreigners in the peacekeeping mission became familiar with the Chinese soldiers through Xie and his friendliness.
Repairing roads, digging cellars, planting vegetables, delivering water and fixing machines, Xie helped local people with their daily errands during his seven-month stay in Sudan.
Jimmy, a Kenyan driver, who lost his wallet with $1,000 in it, got his wallet back from Xie three days later, because Xie could not find any personal information inside and asked every one he saw to find the owner.