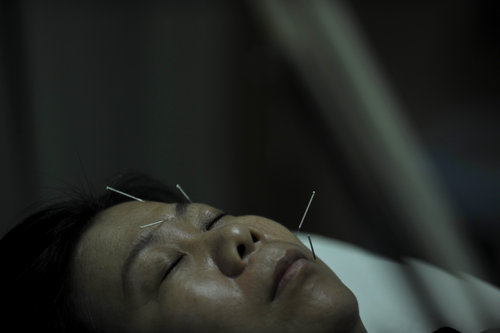 A patient receives acupuncture at a hospital in Fuzhou, East China's Fujian province, Sept 13, 2010. [Photo/CFP] 
BEIJING - China is seeking to list acupuncture, the needle therapy of traditional Chinese medicine (TCM), as a UNESCO world intangible cultural heritage, said a senior health official.
Wu Gang, deputy director of the State TCM administration, made the remarks on Monday at a press conference to promote TCM at the grassroots level in China.
"The country, in fact, filed the application last year and is now waiting for the result," he said.
The status, once granted, will improve the awareness and popularity of acupuncture and TCM as a whole, across the world, said Shen Zhixiang, secretary-general of the World Federation of Acupuncture-Moxibustion Societies based in Beijing. The status also would encourage the protection of the time-honored medical science, Shen said.
China started the process of requesting the status in 2003, he said. "At that time, the country tried to list the entire package of TCM comprising both the medicines and techniques," he noted.
"We changed that approach into a more specific and feasible one, for acupuncture alone," Wu said.
UNESCO gave a warmer welcome to the more specific request, he said.
The listing standards are getting tougher and pickier, he said.
Usually, UNESCO takes about two years to announce a decision, experts said. The whole process follows strict procedures and rules, and the process is not open to the public, experts said.
China now has about 600,000 licensed TCM doctors and all of them could practice acupuncture, Shen said.
TCM, and its needle treatment in particular, has also been officially recognized and is widely practiced in foreign countries including Japan, the United States, Germany and the Republic of Korea, he added.
To facilitate its development worldwide, WHO issued in 2008 the Standard Acupuncture Point Locations, with some saying up to 99 percent of the locations were defined by the Republic of Korea rather than China, where the needle treatment originated.
However, that notion was dismissed by traditional medicine experts from both the Republic of Korea and China, Shen said.
"The locations in the WHO standard are in line with the Chinese ones while maybe in different names," he explained.
He also conceded that China still needs to do more to set the international standards for TCM, which concerns not only international recognition but also potential economic interests.
And the competition for that is harsh worldwide, he said.
The Republic of Korea succeeded in adding the Ganjeung Danojie (Duanwu) Festival, which originated in China as a celebration to commemorate Qu Yuan, an ancient Chinese poet, onto the World Intangible Cultural Heritage list in 2005.