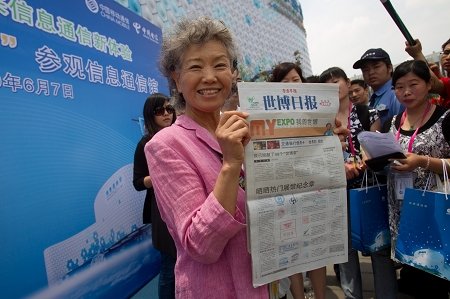 Yamada shows her collection of Expo emblems and photos for the cameras on Monday at Expo Information Communication Pavilion. [Photo/Oriental Morning News]
Tomiyo Yamada, a 61-year-old Japanese housewife, finished her first round of touring Shanghai Expo on Monday with 38 consecutive days of visits and 373 pavilion visits, the eastday.com reported Tuesday.
"It won't be my end at Shanghai Expo, I was like a 38-day baby. I need to learn more in a second tour," she said. "I especially like Chinese local provincial pavilions, I need to pay a second round of visits to experience and understand more."
Yamada also thanked the Shanghai people's hospitality during the Expo period.
Tomiyo Yamada is a huge fan of the World Expo. She battled illness to set a new attendance record at the 2005 Aichi World Expo by visiting it 243 times — a number she plans to surpass at this year's Shanghai Expo.