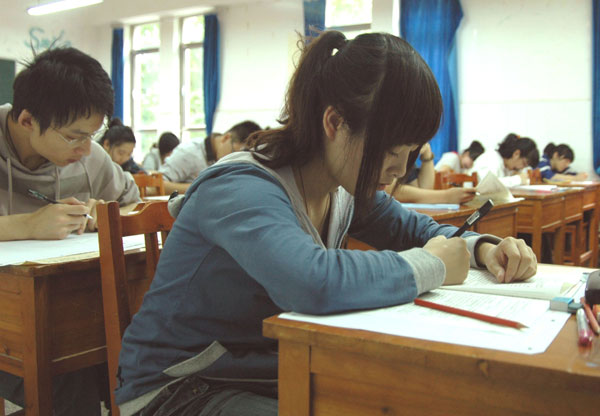 Students participate in the national college entrance exam in Guiyang No 6 Middle School in Guiyang, capital of Southwest China's Guizhou province, on June 7, 2010. [Xinhua] 
BEIJING - The decreasing birth rate and the rising popularity of overseas studies have combined to drag the number of candidates for this year's make-or-break college entrance exam below 10 million - for the first time since 2007.
A total of 9.57 million, mostly high school graduates, are sitting for the three-day exam starting Monday, 650,000 less than last year.
It is the second straight year of decrease, according to the Ministry of Education. The peak was in 2008, when 10.53 million sat the exam.
Jiang Gang, deputy director of the ministry's college student affairs department, said the decline is mainly due to the shrinking number of high school students.
"It mirrors the decreasing birth rate caused by the one-child policy," said Wang Guangzhou, a researcher in demography at the Chinese Academy of Social Sciences.
Typically, students taking this year's entrance exam started primary school education 12 years ago. According to education ministry statistics, primary school enrolment has decreased since 1996: In 2008, it was a third less than the 1995 peak.
"That means the number of college entrance candidates will continue shrinking," said Zhao Ming, chief of the admission office of Nanjing University.
Apart from the falling number of high school graduates, the trend toward overseas college studies has also led to the drop in candidate numbers, said Wang Huiyao, vice-chairman of the China Western Returned Scholars Association.
"Chinese parents have more choices and are able to make their own judgment on the education quality of Chinese and foreign universities," he said in his online blog on Monday.
Wang Luxue, a high school graduate from Liaoning province, is among those pursuing studies overseas.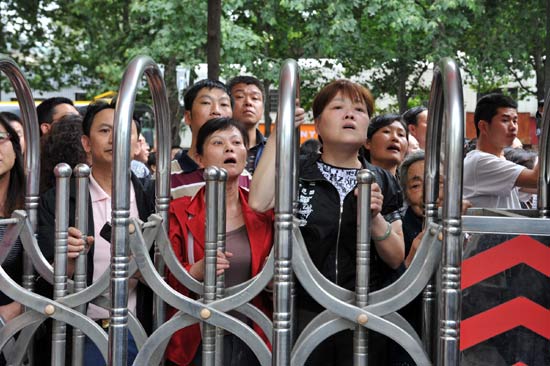 Parents wait outside the middle school affiliated to Guizhou Teachers' University in Guiyang as their children sit the exam on Monday, June 7, 2010. [China Daily]
"I prefer overseas schools because they pay more attention to students' all-around development and provide a more flexible learning environment," Wang said.
After joining Jacobs University in Bremen, Germany, with a full scholarship in February, Wang has spent much of her time learning German and life skills, such as driving and cooking, while her peers were sweating it out for the college entrance exam.
Wang devoted two summer breaks to Beijing-based New Oriental language school, a private institution specializing in test-oriented English training, before she secured 2,100 points in the US College Board's SAT test and 105 points in the TOEFL exam last year. The marks were high enough for her to apply to top universities in the US.
Of the 530 graduates in her school this year, more than 50 have chosen to head overseas for undergraduate studies.
Wu Qun, general manager of Han Terry Consultancy Co Ltd in Shenyang, capital of Liaoning, said the company had helped some 400 high school students go abroad in the first half of 2010, up 20 percent year on year.
"We charged each student about 11,500 yuan ($1,684) for helping set targets, prepare applications and negotiations with schools," Wu said.
According to MyCos, a Beijing-based higher education consulting firm, the number of students going abroad is rising. About 220,000 - at all levels - went to study overseas in 2009, 50,000 more than in 2008.
More and more high school students are going abroad as more families can afford overseas education, said Zhang Jingxiu, vice-president of MyCos.
Analysts also said Chinese parents have become more accepting of their children not pursuing college education because of rising employment pressure.
"The cost of supporting a college students is high, particular for families in rural areas," Wang Tongxun, the vice-director of Chinese Talents Society, said.
"If college education does not guarantee a decent job and a better life, it is not surprise to see the fading interest," he said.
The decreasing number of college entrance exam candidates has intensified competition among Chinese universities to lure the best brains.
Top universities are attracting students who score high in the exam with financial rewards.
Shanghai-based Fudan University has promised to offer 50,000 yuan to applicants who are in the top five in their provinces.
Some less-favored universities are promising the best applicants that they can choose whatever major they like.
Qian Zhong, vice-president of Jinling College, Nanjing University, said newly-founded privately-run universities and colleges will bear the brunt, because such institutions in China are usually of lower quality.
"Some private schools might be driven out of the game due to too few students," said Qian.