Experts at the National Key Laboratory also claim experiments they conducted prove GM rice will not pollute other species. However, they are yet to reveal details of the experiments or publish an academic paper on the subject.
"We need new technology to feed people, as the population keeps growing and resources are limited," said Long Manyuan, a genetics professor at the University of Chicago. "Most people who worry about GM rice don't know what's going on. Scientists should explain their work to make people understand what's going on. We need responsible media."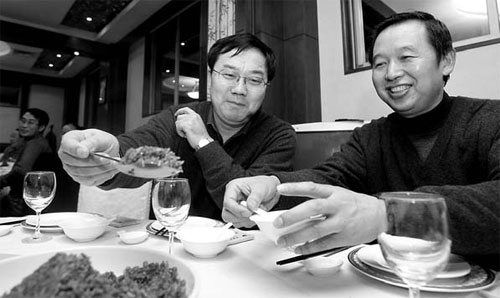 Experts at Huazhong Agricultural University in Wuhan, Hubei province, taste food cooked from GM rice in February. [SONG RONGCHENG / FOR CHINA DAILY]
Rozelle agreed and said scientific knowledge is essential to the discussion over GM crops.
"There are a few organizations that out of ideology are trying to spread mistruths about new technologies, and for some reason the press picks these up," he said. "Let the consumers choose. You will see that consumers will gain confidence as GM rice becomes a part of their diet. Prices will fall, and health and water quality will rise. China will be a world leader in this."
Control of the GM technology patent is also the subject of furious debate, with some groups fearing that the involvement of large, multi-national companies could spell disaster for Chinese farmers.
"Big multi-national agricultural companies such as Monsanto are among several overseas organizations or institutions which hold patent rights on GM rice lines being developed in China. If GM rice was allowed to be commercially grown in China then it is these big multinationals that will effectively own China's rice bowl," said a Greenpeace report last year.
"The commercial GM seed business has driven seed prices up and, in some cases, has elbowed non-GM seeds out of the market. Agrochemical giants have shown how they love to squeeze profits out of struggling farmers by charging technology fees."
Scientists at Huazhong Agriculture University replied by saying two varieties of GM rice - Huahui 1 and Shanyou 63 - contain a Chinese-created BT gene and that they are applying to China's government for plant variety rights, which would give them exclusive control.
Whatever is decided, Mei said the future is out of farmers' hands. "If the GM rice is commercialized someday, I guess farmers will have to grow it," he said. "They can't decide the seed price, so all they can do is hope the insect-resistant rice works like the scientists say it does."