David Faulkner, regional director, consultancy and valuation, Asia, for Colliers International, the real estate services company based in Hong Kong, does not think this will happen.
"If 62 State-owned enterprises put tons of property on the market it would be Christmas come early for those buying the assets. It isn't going to happen. These properties will be parked somewhere," he said.
Murphy at AHS said there were a number of structural weaknesses in the Chinese market.
"Many of the people funding hotels are regional, either regional State-owned enterprises or regional banks, and it makes it therefore very difficult for anyone to build a national chain since they don't want to stray on to other territory," he said.
In Asia as a whole, despite its recent difficulties, the hotels market could be on the verge of an unprecedented boom.
"The next decade is going to be the era of mass market tourism in Asia," added Faulkner at Colliers.
"The volume in this market is not going to be from Europeans or people from the Middle East traveling but from Asians. If you look at the sheer wealth building up in Vietnam now, as just one example, these guys are going to want to go and travel."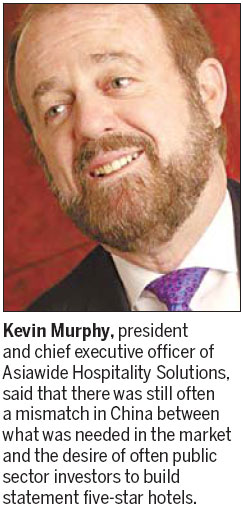 Domestic tourism is certainly fuelling the budget hotels sector in China. Of the hotels being built in China, a quarter - some 201 - are in the lower price category with Chinese brands including Motel 168, Jin Jiang and the Nasdaq-listed Home Inns leading the way.
One looking to enter this market is Tune Hotels.com, backed by Malaysian entrepreneur Tony Fernandes, who founded the budget airline AirAsia and was recently linked with buying English Premiership football club West Ham.
The hotel chain was launched in 2007 and currently has 10 hotels open and a further 100 under construction.
It recently launched one in London with rooms available at 1 penny (0.11 yuan) a night and the next key target market could be China. Charging low rates for future bookings the company hopes to have higher occupancy rates than competitors.
Mark Lankester, the company's chief executive officer, said the company was having discussions about opening in China.
"I think our entry into China will be baby steps and at the destinations where AirAsia currently fly to. We are cautious because there are six or seven publicly-listed companies in China with 45,000 hotels between them and if they grouped together they could close us down very easily," he said.
A poorly served sector in China is the middle tier of three and four star hotels. One company aiming to fill it is Days Inn.
The China franchise for the US hotels chain is owned by Singaporean twins Harry and and David Tan, 53, and their younger brother Ted, 43.
They opened their first hotel in 2004 and now have 27 but aim to have 500 in the next five years. Room rates are between 300 and 800 yuan a night.
Harry Tan, who used to work for the luxury Shangri-La group, said he knows precisely his target market.
"We are directly aimed at the middle class. There is a huge gap to fill and China's middle class will be the biggest market in the world," he said.
"This market is not crowded at all and in terms of numbers of projects we are the fastest growing company right now.
"At present whether a city has a McDonald's or a KFC is the yardstick by which you can judge it has reached a certain liveable standard. In future we want to be that yardstick."
A McDonald's meal is not what the Dubai-based Emaar Hospitality Group would ever think of serving up.
China is set to be one of the first international markets outside the United Arab Emirates for its ultra luxury urban resort hotel concept, The Address.
Marc Dardenne, the company's chief executive officer, believes its high-class leisure facilities right in the heart of a city could prove a hit with China's new rich elite.
"We have some good contacts in China and it could be a major opportunity to expand. We are also viewing Indonesia and Malaysian opportunities," he said.
One of the big problems in Asia but particularly in China is the poor level of staff training.
The myriad of hospitality management in China cannot produce the numbers required by the industry. Compromises have to be made also on on-the-job staff training.
"You have the situation where people of three to four years of experience are having to teach people to a level that is beyond the level they have reached themselves," added Murphy at AHS.
Asian hotel investors are not forced to stay within their own boundaries. Major chains in both the United States and Europe have been hit hard by the economic downturn and could soon be looking to offload properties. Those with the necessary cash might just be from Asia.
Faulkner at Colliers believes Asian investors may be about to make some high profile acquisitions in the West.
"They are certainly tracking those markets now and having a good look. They are pretty canny like that. I think if assets are reasonably priced you will see some acquisitions being done," he said.
With the maelstrom of the economic crisis still not too distant in the past no one in the Asian hotels sector wants to be overly optimistic. But Murphy at AHS said the mood was certainly improving.
"Certainly in terms of most Asian markets people are viewing investment returns more positively and future hotel investment is strengthening," he said.