A worker erects a sign outside The Venetian in Macao, where the International Hotel Investment Forum Asia Pacific 2010 took place last month. [Agencies]

Confidence starts to return as global economic crisis gets more distant
MACAO - The hazy overcast Macao skyline was a fitting backdrop for the movers and shakers of Asia's hotel industry to review the sector's fortunes.
Last year, the former Portuguese colony was at the epicenter of the difficulties affecting the industry in the wake of the financial crisis.
Many of the cranes building glittering new casino hotels for what is emerging as one of Asia's leading leisure destinations had come to a sudden juddering halt as plans were put on temporary hold.
If the industry's leaders had wanted to take the pulse of the sector then they might not have found one.
Both business and tourism levels plummeted and those with highly geared projects found bank funding had dried up.
Confidence is beginning to return, however. Although the numbers of hotels forecast to be built throughout Asia this year and next is, at 1,060, only marginally above the 974 completed in a single year in 2008, according to Lodging Econometrics, the US-based hotel real estate market analysts, the movement is in the right direction.
Anyone wanting funding from a bank for a hotel will still need, however, a copper-bottomed proposal and raising equity for hotel investment through an initial public offering remains almost impossible. Those fuelling Asia's hotel growth remain rich entrepreneurs, municipal authorities or, in the case of China, cash-abundant State-owned enterprises.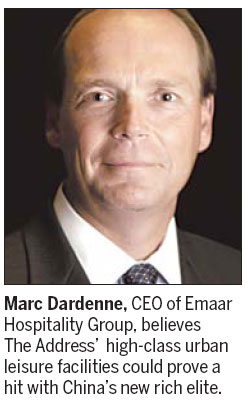 Robert McIntosh, executive director of CB Richard Ellis, Asia Pacific, the commercial property adviser, told The International Hotel Investment Forum Asia Pacific 2010 at the world's largest hotel, The Venetian, there was a recovery under way.
"Last year was extra negative. There were no deals being done. Everything was going down hill. There has been a big change in the last 12 months, particularly the last six."
Morgan Laughlin, managing director and regional head of real estate, Asia Pacific, for the Royal Bank of Scotland, said there had been fewer distressed sales of hotels in Asia, compared with Europe and the United States.
"In Europe and the United States there has been a lot of pressure from investment funds wanting to sell assets and so the price expectations of those selling hotels have had to adjust rapidly. In Asia, where many hotels are owned by individuals with a lot of their own equity, they will fight tooth and nail against lowering the price," he said.
He added banks were still cautious about lending money.
"What is a good deal today is very different from a good deal in 2007. The banks are looking closely at risk and that will remain for at least a couple of years."
China remains the powerhouse of the Asian hotels industry. Of the 1,200 hotels currently under construction throughout the whole region, some two-thirds, or 802, are in China, according to Lodging Econometrics figures.
Bruce Ford, senior vice-president of sales for Lodging Econometrics, said there was still confidence in China
"I think China today is the major focus of the world's hotel industry. It is a big part of the Asia story and is going to be the top country for hotel openings for each of the next two years."
Kevin Murphy, president and chief executive officer of Asiawide Hospitality Solutions, which advises hotel companies on investment decisions, said there was still often a mismatch in China between what was needed in the market and the desire of often public sector investors to build statement five star hotels, of which in many cities there is still an oversupply.
"I was asked to recently to produce a report on building a five star hotel at an airport," he said.
"Why would you want to build a five-star hotel at an airport? People have limited time and just want somewhere to sleep. It was what the chairman of an airport authority wanted and he would have moved on by the time it was built and had difficulty getting customers."
There have been concerns in China that the government policies to control the property bubble might lead State-owned enterprises to offload hotels and destabilize the market.