BEIJING - Chinese solar cell makers are striving to find ways to diversify sales after the export-oriented industry suffered huge losses from the depreciation of the euro.
Despite continued revenue growth, solar cell makers' profits have shrunk significantly due to volatile currency markets.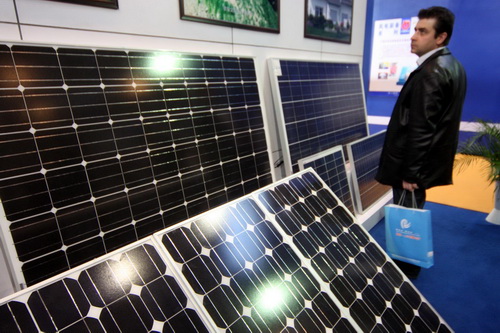 A potential buyer visits a solar energy exhibition in Beijing. [WU CHANGQING / FOR CHINA DAILY]
China's solar cell industry was an early victim of the euro's decline as Europe absorbs more than 80 percent of solar cell exports.
Solar cells, also called photovoltaic or PV cells, are semiconductor devices that convert the energy of sunlight into electricity. They are most commonly used in solar panels.
Wuxi-based Suntech Power, the world's largest manufacturer of solar cells, saw its gross margin squeezed to 19.5 percent in the first quarter of 2010 from nearly 24 percent in the last quarter of 2009, mainly owing to euro volatility.
Suntech's profit was halved to $20.7 million from $49.9 million during the same period while revenues remained nearly flat, mainly owing to the fluctuating euro, the company said.
Other major Chinese solar cell makers also reported slower growth compared to previous quarters.
According to industry insiders, estimated total exchange losses are likely to exceed $1 billion within the industry since the euro began to depreciate.
But exports of solar cell products still doubled during the first quarter of this year.