Overcapacity, bewildering number of models could challenge profitability
After surpassing the United States in 2009 to become the world's largest auto market, China set a new sales record of 5.8 million units in the first four months of 2010 - a stunning 60 percent increase over the 3.6 million units sold during the same period in 2009.
This extraordinary sales momentum has understandably created a sense of euphoria among automakers, leading to many to announce plans to invest in additional production capacity in China.
In recent weeks, Volkswagen announced plans for a new plant in Foshan with capacity to build 300,000 vehicles annually; BMW will build its new 3 Series and 1 Series at a new plant - with a capacity of 100,000 units - in Shenyang; Toyota plans to build a new facility in Changchun that will have an annual capacity of 100,000 vehicles; and Nissan said it intends to increase its China production capacity by 70 percent in the coming years.
While these initiatives are a welcome sign of confidence, there are some reasons to take a more cautious view when considering China's future potential.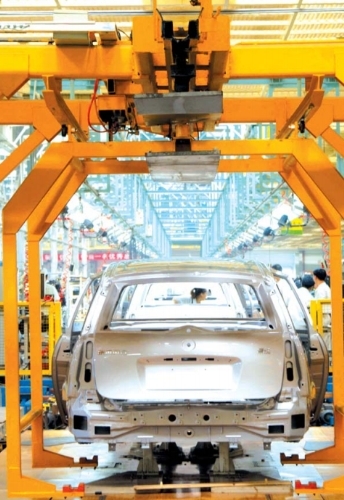 China's auto market is now the world's largest, but delivering quality vehicles — even at a higher cost — could soon be the rule for survival of myriad brands. [LU JIANPING / FOR CHINA DAILY]
Reasons for caution
First, much of China's recent automotive sales growth can be attributed to significant liberal bank lending practices during the past 12 to 15 months.
It should be noted that growth in auto sales were essentially nonexistent in early 2009, and sales did not start to rise until stimulus measures began to take hold in the second quarter of last year.
Without those measures, China's market would likely be growing at a much more humble pace. And while some of the incentives remain in place, there have been movements to scale back on some of them.
Second, plant capacity utilization rates are the key metric of profitability for most automakers. Vehicle production plants are capital-intensive businesses, and the general industry rule of thumb is that a typical high-volume plant needs to achieve 80 percent capacity utilization to reach financial break-even. Every vehicle built and sold after that is profit for the automaker.
But JD Power estimates that China's total industry capacity utilization reached 70 percent in 2009. Given the increased production capacity that many automakers have installed or are planning to add, we estimate that passenger vehicle capacity utilization will decline to around 67 percent in 2010, and will continue to decrease marginally during the next five years.
When capacity utilization declines, the natural tendency of most automakers is to lower vehicle prices to make them more attractive and affordable to consumers. While this is good news for automotive buyers, it translates into lower margins and profits for automakers. Price cuts by one automaker beget cuts by competitors. The result is deflationary price wars, which weaken all competitors.