Darkness spreads call for energy conservation
BEIJING - Hundreds of people gathered at the north entrance of China's most significant historic landmark, the Forbidden City, on Saturday evening. They did not come to see the sights, but the darkness.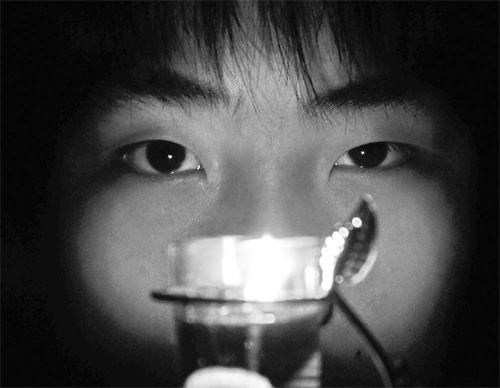 A local resident in Sheqi county, Henan province, lights a candle to observe Earth Hour on Saturday. [China Daily] 
"Five, four, three, two, one!" they counted down to 8:30 pm. As the switch was turned off, lights at the Forbidden City dimmed, leaving only the bright moon showing off its glory in the sky.
It was part of the Earth Hour event initiated by the World Wide Fund for Nature (WWF), which calls for turning off lights from 8:30 pm to 9:30 pm globally on the last Saturday of March to signal concern for climate change.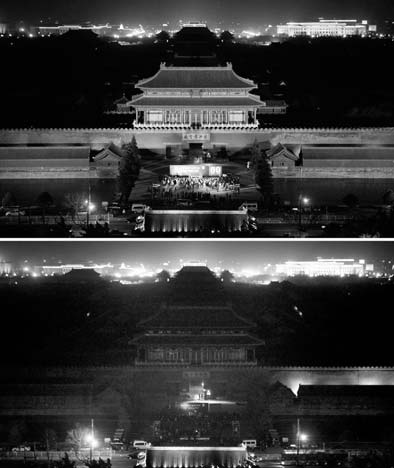 A combination picture shows a view of the Forbidden City before (top) and during Earth Hour in Beijing on Saturday. [Agencies] 
Also going dark were iconic modern structures like the Bird's Nest, Water Cube, National Center for the Performing Arts and the Yintai Center in Beijing.
Initiated in Sydney in 2007, Earth Hour came to China last year. Although only the second time it was celebrated in the country, the event attracted participants nationwide, said James Leape, director-general of the WWF.
"(Last year) we had about 20 cities that did something for Earth Hour. This year we have 33 cities signed up, and also many businesses," Leape told China Daily on Saturday.
The three tallest landmarks in Shanghai, the Shanghai World Financial Center, Jinmao Tower and the Oriental Pearl TV Tower, went dark for an hour. So did City Hall, the Bund, Xintiandi and many other iconic structures in the city's downtown area.
About 200 companies, 122 schools, 350 communities, 20 universities and more than 100 commercial buildings in Shanghai joined the event, according to Wang Limin, deputy conservation director for WWF operations in China.
This was the second time the eastern metropolis took part in the global event to help reduce energy consumption.
"I turned off all but one light at home last night, and spent the time doing some reading," said Yan Jun, a college student, also a registered member of the Greenpeace organization.
"My parents didn't quite understand my act, but they didn't object either, as it was just one hour and they could easily kill it by doing housework or reading a newspaper," Yan said.
At Xujiahui, one of the busiest commercial zones in Shanghai, the imposing shopping mall, Grand Gateway, also switched off all of its outdoor floodlights, landscape lights and LED screen from 8:30 pm to 9:30 pm.
But for shoppers inside, there appeared to be little difference. Wang Jiayu, an office worker who happened to be dining at Xujiahui on Saturday evening, said she did not notice the darker outside, but most restaurants and shopping malls she visited or saw were illuminated as usual.
In Chengdu, Earth Hour Global Panda Ambassador Mei Lan led the city's 13 million citizens in turning off lights from her home at the Chengdu Research Base of Giant Panda Breeding, according to a statement from the WWF.
In Nanjing, the country's first Earth Hour branded subway train promoted low-carbon lifestyle tips to passengers. The city's famous Sun Yat-sen Mausoleum, along with 400 buildings, also turned off lights, the statement said.
In Xi'an, city icons that went dark included the ancient Xi'an Bell Tower and Drum Tower as well as the old City Wall, the statement said.
More participants
Leape said he saw a continuous growth in the participants of the event across the globe.
"Starting in 2007, there was just the city of Sydney. In 2008, 40 countries joined Earth Hour. Last year, it was 88 countries around the world. This year we have 126 countries," Leape said.
"Eight of the 10 largest cities in the world are part of Earth Hour, and also 56 national capitals. It's become a huge global event," he said.
Li Wenzhu, a 22-year-old artist in Beijing, was one of the 1 billion participants around the world.
"I sent out a message proposing the event to 20 of my friends this morning. They were people of different ages, sexes and professions, who then forwarded the message to their friends so the information would reach the most people possible," Li told China Daily on Saturday.
She said she gave up a concert that was scheduled the night of Earth Hour.
"I stayed at home in the dark. I just wanted to offer what I can to our little Earth," she said, smiling.
Some contrary voices, though, said turning off the lights might not actually save energy.
"The amount of electricity produced by the power plant is set, and turning off the lights will do nothing but waste the already produced energy," said a note posted on the page of an online group that was created for the 2010 Earth Hour event at popular community website douban.com which by Sunday had 2,841 members.
When asked for comment, Leape said it was important to recognize that the event was really about making a statement.
"We have statistics from some of the cities that participated in Earth Hour on how much energy was saved. But the most important thing is that people are turning off their lights to say time has come for the world to act on climate change. It's a way for people to speak up. You know, it's just a recognition by the leaders that their citizens really care about this," Leape said.
He said there might be other forms in the future for people to show their concerns about environmental issues, but turning off the lights will be the symbol of Earth Hour.
Xu Junqian contributed to this story.