Accused seemed clear minded in interrogation, police officers say
Beijing - The man accused of stabbing eight students to death and injuring five others outside a school in Fujian province has confessed to carrying out the brutal attack "to take revenge on society" for his miserable life, police said on Wednesday.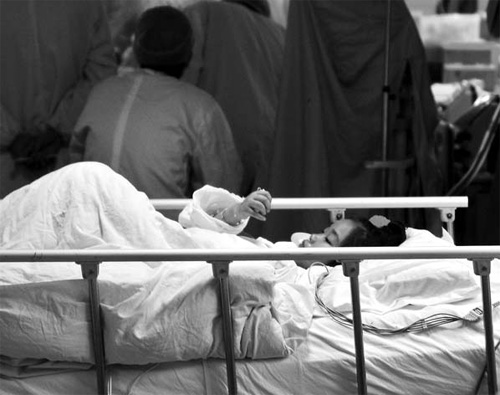 A student injured in Tuesday's school attack, which claimed eight lives, recovers at a local hospital in Nanping, Fujian province, on Tuesday. Of the five wounded students, two have regained consciousness.  
Zheng Minsheng, the accused, told police in Nanping that the attack on Tuesday was a result of "joblessness, several failed relationships, and irritation" toward people talking about his failures.
The police ruled out the possibility of Zheng, 42, being mentally ill, saying his confession is "logical" and he seemed clear minded during interrogation.
"He killed those children on purpose because he was depressed and hated the world," Xu Jingping, deputy director of the Nanping police bureau, said at a news briefing late on Wednesday night.
He said the procuratorate of Yanping district in Nanping had approved Zheng's arrest on charges of intentional homicide.
At present, five of the injured children are still in the hospital, with three of them in critical condition.
However, those who have known Zheng are still finding it hard to believe that the former community doctor, who never even raised his voice, could single-handedly orchestrate a massacre of children.
Zheng worked as a doctor at a community clinic from 2002 until he resigned in 2009, Fang Huiying, Zheng's former colleague who has known him for 19 years, was quoted in the Yangcheng Evening News as saying.
Another Zheng's colleague at the community clinic said Zheng got his doctor's license in 2008 and that he once spoke of wanting to open his own clinic.
Zheng also told his colleagues that a hospital in Quanzhou city was offering him a high-paid job.
After he resigned from the community clinic, Zheng never found another job.
A community resident surnamed Liu told Beijing News Zheng was a "good doctor and residents trusted him, but we heard that he did not get along well with his colleagues, and had some disputes with the hospital bosses."
Zheng's colleagues and bosses said they could never imagine what he was so angry about.
"He was never really one of us. We shared such an indifferent relationship (with Zheng) that hatred is impossible," said Li Wen, another colleague.
Instead of socializing with his colleagues, Zheng reportedly preferred to chat with peddlers and complain about his miserable life.
He told restaurant owners, retail store owners and tailors near the hospital that all his colleagues looked down on him because he was poor, according to reports.
Zheng earned about 1,400 yuan ($205) a month as a community doctor and his family was one of the poorest in town, neighbors said.
Zheng lived with his mother and his brother's family, altogether five people, in a 61-square-meter apartment, which is so small that he had to sleep either in the balcony or the living room.
Zheng told the police that he wanted to get married, but all his girlfriends - reportedly five - broke up with him because he could not afford an apartment.
After losing his job last June, Zheng became extremely depressed after failing to find another one, his neighbors said.
"Ever since this year, we rarely saw him outside," one of Zheng's neighbors surnamed Chen said.
According to Chen, Zheng's brother had started treating him with disrespect because he was not making any money and Zheng blamed his mother for his bad luck.
Chen said he saw Zheng, wearing a white tracksuit, jogging early on Tuesday morning, just hours before he unleashed his fury on schoolchildren.
"He greeted everyone. There wasn't a sign that anything strange was about to happen," Chen said.
However, later at 7:20 am, Zheng was reportedly seen outside the Nanping Experimental Primary School stabbing student after student with a 25-cm knife.
"If he (Zheng) is not mentally ill, this extreme case is a revelation of some problems that plague our society," said Teng Biao, a Beijing-based lawyer. "What worries us is social injustice and unfair income distribution."
Teng said poor people, especially those with fragile minds, are more prone to anger and capable of taking extreme measures when they see no hope.
"We should care more for those people. The government should put more efforts into adjusting income distribution, or else I see more such tragedies in the future," Teng said.