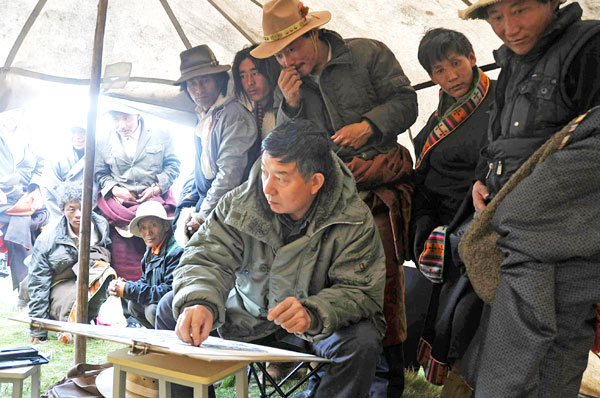 Wu Changjiang draws a sketch in a Tibetan tent, in Zekog county, Qinghai province. Photos provided to China Daily
Artist Wu Changjiang takes more than just inspiration from his journeys through Tibetan areas. Lin Shujuan finds out more.
Artist Wu Changjiang has perhaps the world's largest studio - the vast expanse of the Qinghai-Tibet plateau.
Nearly every print, watercolor and sketch Wu has created since 1980 has been completed in a Tibetan herder's tent, in the middle of a local market or on the sidelines of horse races.
"In my eyes, the Tibetan herders are the most beautiful humans on Earth," says the 58-year-old artist, who has set foot in every corner of the plateau over the past three decades.
"I believe Mother Nature must have made Tibetan herders the prototype for human beings. She has cast them with a strong physique to endure the harshest living conditions, endowed them with a happy-go-lucky nature, and blessed them with the wisdom to enjoy and celebrate life - even when it's hard."
The artist has made it his life mission to introduce these people to the outside world, he says.
It was in 1980 when he was a sophomore print major at the China Central Academy of Fine Arts that he decided to make his first journey to Tibetan areas.
It has been a tradition for Chinese artists to visit and sketch Tibet since the early 20th century, when such Western influences as Realism started to permeate Chinese fine arts.