Phenomenon unique to China offers a special place for religious worship, Cui Jia reports in Lanzhou.
Editor's note: This is the fourth in a regular series of reports brought together under the banner "Lost Horizons", which aims to show life in the less-reported areas of the country and to give a voice to those whose words often go unheard. Slideshows and video footage are also available at http://www.chinadaily.com.cn/video/
It was still dark at 6:25 am on a late October morning in Lanzhou, the capital of Gansu province. Carefully gripping the handrail, Ma Guifang, 80, slowly climbed the stairs to the prayer hall on the second floor of Lulan women's mosque for morning prayers, her aching knees protesting at the ascent.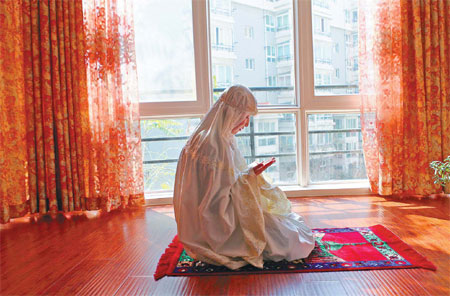 Ma Xuelan prays at a friend's home in Lanzhou, the capital of Gansu province. Photos by Zou Hong / China Daily 
For the past 20 years, the elderly lady from the Hui ethnic group has been attending this women-only mosque, a phenomenon unique to China.
"I feel so blessed to have a mosque I can visit. Not many female Muslims enjoy such a privilege," she said.
Lulan women's mosque was built in 1956 by a group of female Muslims who had relocated to Lanzhou from Henan province in central China.
Muslim schools for women enjoy a long history in China, having first been established during the latter half of the Ming Dynasty (1368-1644). They developed into women-only mosques, presided over by female imams, during the late Qing Dynasty (1644-1911).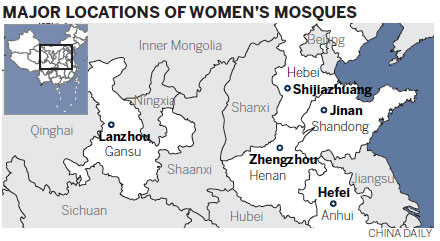 The practice of female imams quickly spread within China's Muslim groups, according to Shui Jingjun, a researcher at the Henan Academy of Social Sciences, who published a book on the history of women's mosques in China in 2002.
Women's mosques soon began to proliferate in China's central plains, mainly in the provinces of Henan, Hebei, Shandong and Anhui. In the northwestern provinces of Qinghai and Gansu and the Ningxia Hui and Xinjiang Uygur autonomous regions, the public participation of women in ritual and leadership is much more restricted, so there are fewer examples of mosques such as this in those areas, added Shui. For example, Lulan is the only women's mosque in Lanzhou, but there are 19 in Zhengzhou, the capital of Henan province.
There are no reliable statistics about the total number of women's mosques in China because they are all affiliated with traditional places of worship, according to the China Islamic Association.
A few minutes after Ma took off her shoes and entered the hall, the prayers began. Although a female imam stood in the hall, the prayers were piped into the room through a loudspeaker wired to a traditional mosque 100 meters away. China's female imams are not equal to male prayer leaders, so they are disbarred from leading the daily prayers that are considered some of the most important daily obligations for followers of the faith. The entrance to the women's mosque is hidden away in a small alley.
"Only China has women's mosques, but this is not a common practice among Chinese Muslims," said Jin Rubin, secretary-general of the China Islamic Association. He added that the restrictions on female imams reciting prayers mean that most women-only mosques are regarded as adjuncts of male establishments.
"The association neither promotes nor condemns women-only mosques because while some people believe they represent greater equality for women, some still hold to the conservative line of thought," said Jin. "But one thing for sure is that women's mosques can provide them with a better level of education, which Islam greatly encourages."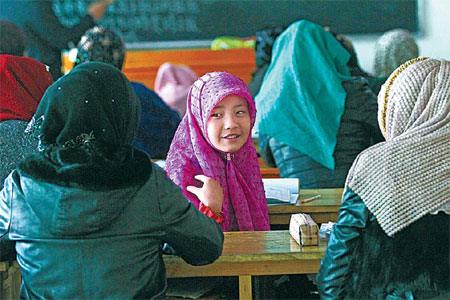 Gao Li discusses issues with other students at the school for women at Xihu mosque in Lanzhou, Gansu province. Zou Hong / China Daily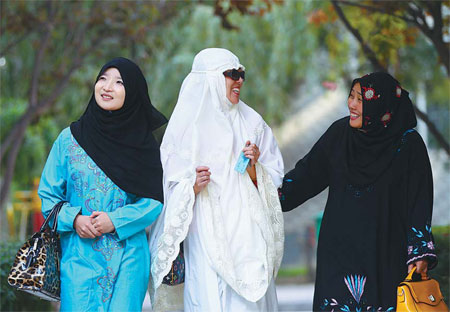 Brightly dressed Muslim women in Lanzhou.