China, S.Korea protest Koizumi's shrine visit
(chinadaily.com.cn/Reuters)
Updated: 2005-10-17 11:30
Frosty relations between China and Japan hit their lowest level in decades in April, when thousands of Chinese took to the streets in sometimes violent anti-Japanese protests.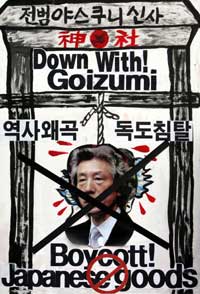 A sign denouncing Japanese Prime Minister Junichiro Koizumi is seen during an anti-Japan protest near the Japanese embassy in Seoul October 17, 2005. [Reuters]

After the April protests, Tokyo's Nikkei share average slid below the 11,000 mark for the first time this year.

The benchmark, which has since recovered, finished the morning session nearly flat at 13,438.34.

Despite a huge victory for Koizumi's ruling Liberal Democratic Party in a general election last month, Japan's public is divided over the Yasukuni visits.

Courts have given conflicting rulings on whether they violate the constitutional separation of religion and state.

Takenori Kanzaki, the leader of LDP coalition partner New Komeito -- a Buddhist-backed party -- told reporters Koizumi's visit was extremely regrettable, Kyodo news agency reported.

But Hiroki Kanematsu, a 20-year-old law student who went to Yasukuni to watch Koizumi, said he backed the prime minister's stance. "Since he started making the visits, he should not stop just because of what China says."

Another student, Ai Yamaguchi, took a different view.

"It would be fine for him to go as an individual, but he is the prime minister, so it is not good," she said.

"We should seek good ties with China and South Korea because they are our close neighbors."

Talks between China and Japan aimed at resolving a row over rights to natural gas resources in the East China Sea have made little progress, and another round is expected later this month.

Japanese Vice Foreign Minister Shotaro Yachi flew to Beijing last week for talks with his Chinese counterpart, Dai Bingguo, to try to mend ties. They had a first round of talks on Saturday but Dai did not show up on Sunday, the Nihon Keizai newspaper reported. The paper said no explanation was given.