China, S.Korea protest Koizumi's shrine visit
(chinadaily.com.cn/Reuters)
Updated: 2005-10-17 11:30
Koizumi did not enter an inner shrine as he has in the past and made no remarks. Chief Cabinet Secretary Hiroyuki Hosoda told reporters the visit was made in a private capacity.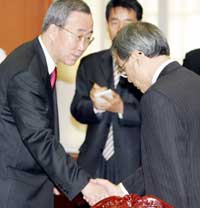 South Korea's Foreign Minister Ban Ki-moon (L) shakes hands with Japanese Ambassador to South Korea Oshima Shotaro at the Ban's office in Seoul October 17, 2005. South Korea has expressed strong regret at Japanese Prime Minister Junichiro Koizumi's visit to a war shrine on Monday and summoned Shotaro to protest against the move. [Reuters]

Japanese media said the low key atmosphere appeared to be an attempt to stress its private nature and mute the expected backlash from China and South Korea as well as domestic critics.

South Korean Foreign Minister Ban Ki-moon, however, swiftly summoned Japanese ambassador Shotaro Oshima to complain.

"We strongly protest the visit to Yasukuni shrine despite our request and strongly urge that it is not repeated," Ban said.

A spokesman for South Korean President Roh Moo Hyun said the two leaders will not meet as planned at next month's Asia Pacific Economic Cooperation meeting, and that talks for a bilateral summit in December were off.

"At least on the surface, negotiations with South Korea and China will be tougher," said Koji Murata, a professor of diplomacy at Doshisha University in Kyoto. "Koizumi needs to explain why he is doing this."

Roh and Koizumi were scheduled to meet one-on-one during the APEC meeting in Busan, South Korea, spokesman Kim Man Soo told reporters at the presidential Blue House.

"We can no longer say that we're reviewing a summit for December," Kim said. "There will be no separate bilateral meeting between the two leaders during the Busan APEC."

Japanese business executives have been worried that the strain in diplomatic ties will hurt burgeoning economic relations between China and Japan especially.

Japan and China have annual trade of about $212 billion, and Japanese exports to China account for some 13 percent of Japan's global exports, second only to 22 percent to the United States.

Tokyo stock market investors, recalling a slide in share prices after anti-Japanese protests in China in April, were wary of the possible fallout from Koizumi's visit to the shrine.

Japan and China are trying to arrange talks in Beijing between Japanese Foreign Minister Nobutaka Machimura and his Chinese counterpart, Li Zhaoxing, to discuss a possible leaders' summit later this year, media have reported. It was not clear how the Yasukuni visit would affect those discussions.

Koizumi has repeatedly said he visits Yasukuni to pray for peace and honor the war dead, not to glorify militarism.

TENSE TIES WITH NEIGHBOURS

Koizumi has avoided visiting the shrine on August 15, the anniversary of Japan's 1945 surrender that ended World War Two and an emotive date in the region, but his visits on other occasions have nonetheless infuriated China and other countries.

"It's fine for the prime minister to stick to his beliefs, but given his status as the Japanese leader he should think about relations between countries and the people's feelings," said Choi Young-soo, 44, a South Korean on a sightseeing trip to the shrine. "He should not stir up ill feelings."

Bitter memories of Japan's 1910-1945 colonization run deep in North and South Korea, while China has not forgotten Tokyo's invasion and occupation before and during World War Two.