China, S.Korea protest Koizumi's shrine visit
(chinadaily.com.cn/Reuters)
Updated: 2005-10-17 11:30
TOKYO - Japanese Prime Minister Junichiro Koizumi paid homage on Monday at a shrine for war dead seen by critics as a symbol of Japan's past militarism, drawing a swift protest from South Korea and outrage from China.
Wang Yi, Chinese ambassador to Japan, said Koizumi's visit to Yasukuni shrine is a "grave provocation" to the Chinese people, a China News Service report quoting Huang Xingyuan, spokesman of the Chinese embassy in Japan, as saying.
Ambassador Wang stressed that Koizumi must bear the historical responsibility for damaging the China-Japan relations, saying China opposes Japanese PM Koizumi's visit, "at any time or in any form," to the shrine where war criminals were enshrined.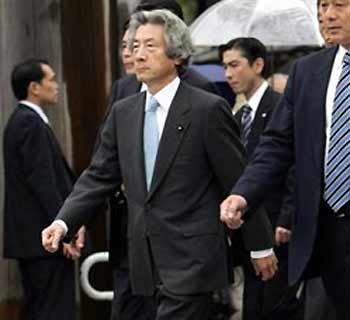 Japanese Prime Minister Junichiro Koizumi arrives at the Yasukuni Shrine in Tokyo Monday, Oct. 17, 2005.[AP]

A spokesman for South Korean President Roh Moo Hyun said the two leaders will not meet as planned at next month's Asia Pacific Economic Cooperation meeting, and that talks for a bilateral summit in December were off.



Roh and Koizumi were scheduled to meet one-on-one during the APEC meeting in Busan, South Korea, spokesman Kim Man Soo told reporters at the presidential Blue House, according to a Bloomberg report.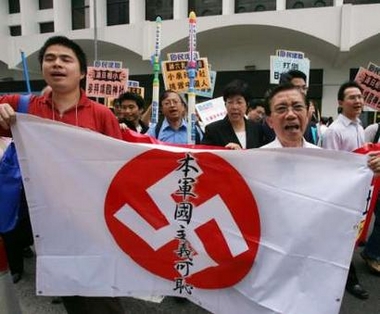 Protestors holding a banner march to the Japanese consulate in Hong Kong October 17,2005 to protest against Japanese Prime Minister Junichiro Koizumi's visit to the Yasukuni Shrine. The banner in Chinese reads, 'Shame on Japanese militarism'. [Reuters]

"We can no longer say that we're reviewing a summit for December," Kim said. "There will be no separate bilateral meeting between the two leaders during the Busan APEC."
Japan's relations with its neighbors have already chilled because of Koizumi's annual visits to Tokyo's Yasukuni shrine, where war criminals convicted by an Allied tribunal are honored along with the nation's 2.5 million war dead.

Koizumi -- clad in a dark suit rather than the traditional Japanese garb he has worn on some past visits -- bowed, put his hands together in prayer and stood silently in front of an outer shrine for a moment before striding back to his car in front of a crowd that had gathered in a drizzling rain.