Gay issue removed from the closet at Fudan
By Ryan Pyle (The New York Times)
Updated: 2005-09-09 11:16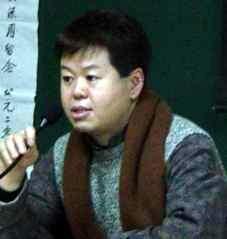 Chinese director Cui Zien, an open gay man, solicits an easing manner treating gays and lesbians. [baidu]

In almost the same breath, though, many also acknowledge that their strategy of using AIDS to create greater freedom carries a risk that they will be blamed for the spread of the disease.

"This is a very sensitive issue among homosexuals, thinking that outsiders are equating them with AIDS," said Gao Yanning, a professor in the school of public health at Fudan University, whose course on homosexual life for the medical school was a precursor of the new undergraduate class. "But we, the professors, have been very careful about this. When I was first thinking of a course called the theory and practice of homosexuality, I was approached by another professor who told me I should call the class 'Homosexuality and AIDS.' "

Mr. Gao said he would have refused to teach the class if he had been forced to use such a name.

Many gay and lesbian Chinese say that it is social conservatism that has discouraged gay people from publicly acknowledging their sexual orientation.

Chinese are hard pressed to name a single celebrity or notable person from their country who has lived an openly gay life, meaning that except for foreigners, young gay men and lesbians have no prominent role models. Explicitly gay literature or cinema and television roles are equally scarce.

A 52-year-old lesbian in the northeastern city of Dalian, who gave her name as Yang, said she had discovered her sexual identity only at age 36, after marriage, when she had her first relationship with another woman, a factory co-worker.

The gay film "East Palace, West Palace" is directed by Zhang Yuan. [baidu]

"When we were together, people would talk about our relationship behind our backs or sometimes ask outright whether we were gay people," Ms. Yang said. "I was just ashamed and didn't know what to say, so I avoided my girlfriend in public occasions. The young gay people in Dalian today, though, seem to live in a very comfortable time."

"They're not forced to get married," she said, "and they take new partners one after another."

Many others, however, said the issue of marriage continued to weigh heavily.

"If you tell your parents you have a boyfriend, that may be O.K., but you've still got to get married," said Wang Xieyu, a junior at Fudan University. "The parents have their own concerns, their friends and their reputations. China today is like the U.S. in the 1960's, but we are changing faster. What took 40 years in the States may only take 10 years in China."

(Courtesy of The New York Times)





| | |
| --- | --- |
| | |
| Paris Hilton turns happy homemaker | |

| | |
| --- | --- |
| | |
| Olympics themed jetliner ascends into the sky | |

| | |
| --- | --- |
| | |
| Best and worst dressed 2005 | |
Today's Top News
Top Life News

Siberian oil pipeline to go to China first: Putin




China to expand relations with Canada: Hu




ADB: China economy to grow 9.2% this year




Showbiz opens up to foreign investors




Wu : Co-operation crucial for peace




Bush suffers in polls post-Katrina