Gay issue removed from the closet at Fudan
By Ryan Pyle (The New York Times)
Updated: 2005-09-09 11:16
As the class got under way, the diminutive teacher standing before an overcrowded lecture hall in this city's most exclusive university handed out a survey. The first of several multiple-choice questions asked students what their feelings would be if they encountered two male lovers: total acceptance, reluctant acceptance, rejection or disgust?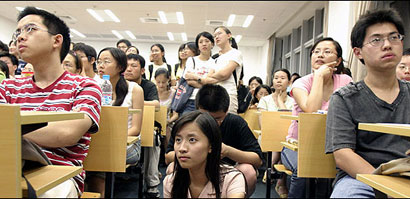 A class on gay and lesbian studies at Fudan University in Shanghai has attracted an overflow crowd. The class is the first ever of its kind in China. [The New York Times]


Prof. Sun Zhongxin is teaching the gay and lesbian studies class. "The attitude toward homosexuality in China is changing," she said.

As a way of breaking the ice, the teacher, Sun Zhongxin, 35, with a Ph.D. in sociology and a fondness for PowerPoint presentations, read aloud some of the answers anonymously. In her survey, most of the 120 or so students said they would reluctantly accept gay lovers in their midst.

The Fudan University class, Introduction to Gay and Lesbian Studies, is the first of its kind ever offered to Chinese undergraduates, and Ms. Sun briefly wondered why it was so well attended, before providing her own answer. "The attitude toward homosexuality in China is changing," she said. "It is a good process, but it also makes us feel heavy-hearted. What's unfortunate about such heavy attendance is that it indicates that many people have never discussed the topic before."

"Not only are people hiding in the closet," she concluded, "but the topic itself has been hiding in the closet."

A class like this would be unremarkable on most American university campuses, where many students are quite open about their homosexuality and the curriculum has long included offerings reflecting their interests. But among China's gay and lesbian population, which may be as large as 48 million by some estimates though it remains largely invisible, the new course is being portrayed as a major advance.





| | |
| --- | --- |
| | |
| Paris Hilton turns happy homemaker | |

| | |
| --- | --- |
| | |
| Olympics themed jetliner ascends into the sky | |

| | |
| --- | --- |
| | |
| Best and worst dressed 2005 | |
Today's Top News
Top Life News

Siberian oil pipeline to go to China first: Putin




China to expand relations with Canada: Hu




ADB: China economy to grow 9.2% this year




Showbiz opens up to foreign investors




Wu : Co-operation crucial for peace




Bush suffers in polls post-Katrina