Gay issue removed from the closet at Fudan
By Ryan Pyle (The New York Times)
Updated: 2005-09-09 11:16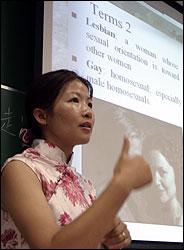 Prof. Sun Zhongxin is teaching the gay and lesbian studies class. "The attitude toward homosexuality in China is changing," she said. [The New York Times]

"This is definitely a big breakthrough in the contemporary society, because for so many years, homosexuals, as a community, have lived at the edge of society and have been treated like dissidents," said Zhou Shengjian, director of a gay advocacy group in Chongqing, an inland city far from Shanghai's cosmopolitanism. "For such a university to have a specific course like this, with so many participants and experts involved, will have a very positive impact on the social situation of gay people, and on the fight against AIDS."

However much they welcomed the academic breakthrough, which is likely to spur similar courses on other campuses and perhaps eventually give rise to a gay and lesbian studies movement, many of today's gay and lesbian activists say they are no longer willing simply to wait patiently for the society to accept them.

In particular, gay activists have been able to leverage the rising alarm over the spread of AIDS to win more maneuvering space, including more acceptance from the government. Today, for example, by some estimates there are as many as 300 Web sites in China that cater to the concerns of gay men and lesbians.

Some of the sites focus strictly on health issues. Others tread into the delicate area of discrimination. Others feature downloadable fiction by gay writers, who deal candidly with matters of sexuality in ways that few publishers would publish.

One of the most popular sites (www.gztz.org) includes detailed maps of gay entertainment areas, from saunas to nightclubs, in China and overseas.

"In each provincial capital there is at least one gay working group that is active on H.I.V.-AIDS prevention," said Zhen Li, 40, a volunteer for a gay hot line based in Beijing. "AIDS is not the main focus of our lives, though. We use the discussion of AIDS as a way of coming together on other issues, from getting coverage of gay life in the media to starting a discussion with the society."





| | |
| --- | --- |
| | |
| Paris Hilton turns happy homemaker | |

| | |
| --- | --- |
| | |
| Olympics themed jetliner ascends into the sky | |

| | |
| --- | --- |
| | |
| Best and worst dressed 2005 | |
Today's Top News
Top Life News

Siberian oil pipeline to go to China first: Putin




China to expand relations with Canada: Hu




ADB: China economy to grow 9.2% this year




Showbiz opens up to foreign investors




Wu : Co-operation crucial for peace




Bush suffers in polls post-Katrina