Troops offer aid in anarchic New Orleans
(AFP)
Updated: 2005-09-03 10:09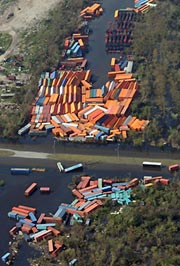 Cargo containers lay where they were tossed by Hurricane Katrina in New Orleans August 31, 2005. [Reuters]

The influx of troops included some 300 members of the Arkansas National Guard, just back from Iraq and authorized to open fire on hoodlums profiting from the destruction.

"They have M-16s, and they are locked and loaded," Blanco said.

Refugees were bused out of New Orleans to shelters in the neighboring state of Texas and as far away as the southeastern state of Florida. Officials said it could be months before they returned.

While acknowledging the frustration of those waiting for relief and escape, the commander in charge of the military relief operation, Lieutenant General Russel Honore stressed the enormous logistical problems involved.

"If it was easy, it would have been done already," Honore said.

"We've been a victim of the high water which restricts our routes ... it just makes it difficult," he said, adding that the huge numbers of people requiring urgent aid ruled out any quick fix.

"If you ever have 20,000 people come to supper, you know what I'm talking about," he said.

The spectacle of the superpower struggling with a natural catastrophe and a growing refugee problem more common to the developing world shocked US allies and foes abroad as officials here counted up the cost.

The consulting firm Risk Management Solutions (RMS) estimated economic losses would likely top 100 billion dollars and called the situation in New Orleans "the most damaging flood in US history."

The United Nations Children's Fund ( UNICEF) deplored the fact that the poorest residents, those unable to flee the hurricane, bore the brunt of the disaster. It said 300,000 to 400,000 children were left homeless.





| | |
| --- | --- |
| | |
| Hurricane Katrina batters US | |

| | |
| --- | --- |
| | |
| Pakistani, Indian officials meet for peace | |

| | |
| --- | --- |
| | |
| Death toll of Baghdad bridge stampede nears 1,000 | |
Today's Top News
Top World News

War remembered for peace, future: President Hu




Gov't to relax telecoms charging




Bush: Katrina response 'not acceptable'




China, UK expect big deals




Talim kills at least 13 in 2 provinces




Taiwan delegation supports communication