Troops offer aid in anarchic New Orleans
(AFP)
Updated: 2005-09-03 10:09
The troops chased away gun-toting gangs who had forced those seeking shelter in the center to endure sleepless nights with the constant threat of violence.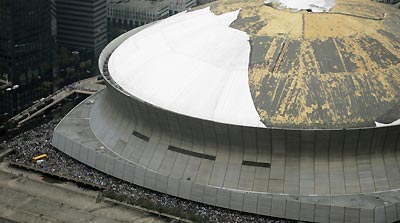 Thousands of residents are shown gathering outside the storm damaged Louisiana Super Dome in New Orleans September 1, 2005. Rotting bodies littered New Orleans' streets on Thursday and troops headed in to control looting and violence, as thousands of desperate survivors of Hurricane Katrina pleaded to be evacuated from the flooded city, or even just fed. [Reuters]

Although battle-hardened by service in Iraq, some of the guardsmen voiced a sense of deep shock at the scenes of destruction and desperation.

"If you see it in downtown Baghdad, it has no connection to us," said Major Glenn Bergeron. "This is different ... it is beyond anything I would have thought."

Despite the influx of troops, officials spoke of pockets of mayhem, including violence that suspended the evacuation of critically ill patients from a major hospital.

Lieutenant General Steven Blum said he was confident of a "dramatic improvement" in the security situation over the next 24 hours, with the number of guardsmen deployed in New Orleans set to reach 7,000 by late Friday.

President George W. Bush, under fire for his handling of the catastrophe, toured the affected areas by helicopter and on foot.

"I want you to know I'm not going to forget what I've seen," Bush said after his visit.

"I understand the devastation requires more than one day's attention. It's going to require the attention of this country for a long period of time," he said.

One of the president's staunchest critics, New Orleans Mayor Ray Nagin, took little comfort from the promises of help to come.

"It's too doggone late!" Nagin said in an angry and emotional interview aired on CNN. "Now get off your asses and let's do something and fix the biggest goddamn crisis in the history of this country."

The criticism of the administration has intensified with the harrowing testimony of hurricane survivors, recounting scenes of bodies piling up, gunbattles, fistfights, rapes, carjackings and widespread looting.

Terry Ebbert, the chief of New Orleans's emergency operations, branded the delays a "national disgrace" and moaned, "We can send massive amounts of aid to (Asian) tsunami victims, but we can't bail out the city of New Orleans."





| | |
| --- | --- |
| | |
| Hurricane Katrina batters US | |

| | |
| --- | --- |
| | |
| Pakistani, Indian officials meet for peace | |

| | |
| --- | --- |
| | |
| Death toll of Baghdad bridge stampede nears 1,000 | |
Today's Top News
Top World News

War remembered for peace, future: President Hu




Gov't to relax telecoms charging




Bush: Katrina response 'not acceptable'




China, UK expect big deals




Talim kills at least 13 in 2 provinces




Taiwan delegation supports communication