Troops offer aid in anarchic New Orleans
(AFP)
Updated: 2005-09-03 10:09
Thousands of fresh troops poured into New Orleans, bringing urgent food and medical relief and offering protection from armed thugs terrorising the city in the wake of Hurricane Katrina.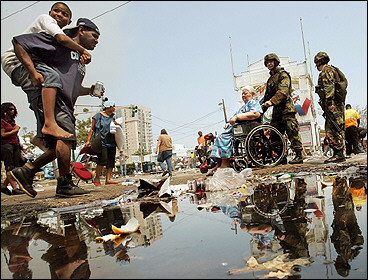 US Army National Guard soldiers assist stranded victims of Hurricane Katrina outside the New Orleans Convention Center. Thousands of troops poured into the city to help with security and delivery of supplies in the wake of Hurricane Katrina. [AFP]


The hefty deployment of National Guardsmen, bolstered by Iraq-tested reinforcements, came amid growing criticism of relief efforts that President George W. Bush acknowledged were unacceptably slow.

Around 1,000 troops arrived with an amphibious convoy carrying the first large-scale relief supplies into New Orleans, where tens of thousands remained stranded without proper food, water, power or sanitation four days after Katrina ravaged the city.

In the absence of any comprehensive body count, estimates of the number of dead across the US Gulf Coast ran into the thousands, with one senator predicting a toll of more than 10,000 in Louisiana alone.

Columns of smoke rising from multiple fires in New Orleans lent a combat-zone air to the devastated city, where gangs of looters had filled the law-and-order vacuum in the immediate aftermath of the storm.

"We are trying to keep the peace. We are here to give whatever aid we can," said Sergeant Joshua Daniels, as supplies from the relief convoy were distributed to thousands of sick, hungry and fearful refugees at the local convention center.







| | |
| --- | --- |
| | |
| Hurricane Katrina batters US | |

| | |
| --- | --- |
| | |
| Pakistani, Indian officials meet for peace | |

| | |
| --- | --- |
| | |
| Death toll of Baghdad bridge stampede nears 1,000 | |
Today's Top News
Top World News

War remembered for peace, future: President Hu




Gov't to relax telecoms charging




Bush: Katrina response 'not acceptable'




China, UK expect big deals




Talim kills at least 13 in 2 provinces




Taiwan delegation supports communication