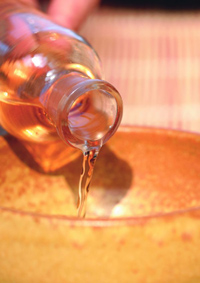 An idyllic and peaceful place that can act as the perfect escape while still within the city would be an attractive proposition for sure. Complemented by the finest modern comforts, a choice of healthy dining and a variety of lifestyle options, the boutique lifestyle center Shile provides a complete, holistic experience.
Located next to Mandarin Palace, near Century Park in Pudong, the Shile building was designed by legendary Japanese architect Arata Isozaki. The place has already earned a reputation for its concept of healthy living among those looking for a hideaway.
Shile, meaning "ten joys," was created to combine the Chinese philosophy of maintaining optimal health and a traditional lifestyle, together with modern technology and amenities. Leisure and entertainment choices include art appreciation; spa therapy; nutritious gourmet cuisine; a space to partake in fine wines and teas; and a bookstore for leisurely reading.
A haven of splendid decadence and relaxation nestled among the secluded splendor of Shile, Fei Fei Xiang Spa is an intimate sanctuary with treatment rooms and facilities.
The name "Fei Fei Xiang" is derived from Taiwanese scholar Nan Huaijin's writings, in which he discusses the four levels of Buddhist enlightenment. In Buddhism, it is said that the moment of sudden enlightenment can bring true peace and purity to the heart and soul.
"Fei Fei Xiang strives to help our customers attain a purity of the body and an inspired mind," says spa Director Jimmy Huang. "Taking enlightenment from Buddhism, our spa attends to all the senses of sight, smell, hearing, taste and touch."
Sporting a minimalist vibe, the spa has three double rooms and four single treatment rooms. Senses are awakened immediately upon stepping foot into the candle-lit treatment room.
From Chinese meridian treatments, to a range of modern massage and beauty treatments, it is easy to find whatever you need at this year-round piece of paradise.