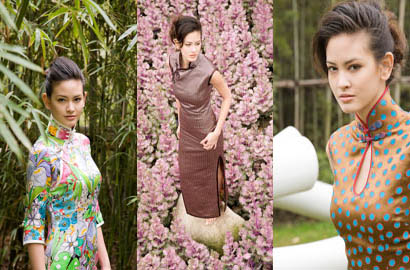 One's body and soul can take quite the battering here in Shanghai, not only from late nights in dubious bars, but also in the shops. All too often, my tender upstairs assets have been squished, squeezed, and manually shoved into garments that were too small, even when tailor-made. The experience at Qipao by Jane, however, is markedly above and beyond the fabric market fracas, and the overzealously embellished prefab stuff in street boutiques.
If you're looking for the Shanghai glam of a bespoke silk qipao that hugs your every curve (but not too tight!), Qipao by Jane offers traditional luxury quality, and more contemporary options than most other dressmakers will even consider. Available on order are polkadots, halter tops, light sundresses and stripes, as well as deliciously deviant shapes: miniskirts, shirts, and long sleeves. The options at this boutique make the dime-a-dozen ready-made dresses look like the Christmas sweater you never wanted – "A" for effort, but ultimately only fit for the back of your closet.
Designer and owner Jane Zhu actually has an eye for style and speaks English, so she can see and say what will work, unlike the frenzied fabric market tailors who proffer exorbitant "friend prices" but often don't have the time, skill, or desire to make sure their customers go home satisfied.
All Jane's creations are directed by you, based on your measurements (in 20 places!), and include friendly fittings. Jane confirms her understanding of your design by preparing a sketch (just like in Project Runway!), and you get the beauty queen treatment.
Si fu tailors carry out your customized visions to palpable perfection, applying years of qipao-specific expertise to making a garment that looks good, party after party, night after night. Jane also works with experienced embroidery and painting artisans trained in traditional methods, capable of delivering top quality true Chinese style made to suit your particular taste and shape.
Lately, local Chinese brides are entrusting Jane Zhu with the most important item they'll ever wear, because her work is wedding-worthy quality. Jane says she loves working with 100% pure silks because they stretch a little to sit nicely, and "the nicer the silk the more lustrous it is. You can see it across the room; it gathers the light." After you've selected your outside silk, Jane does all the legwork of finding the right piping, closures, and contrasting lining to suit your color selections, be they regal or racy.
To try it for yourself: Qipao by Jane is based in a smart apartment on Yuyuan road, lane 361, #48 (near the intersection of Yuyuan, Urumuqi, and Beijing Lu). Also, check out www.qipaobyjane.com for more information. If you're in the area, she's also in New York at Michael Andrews Bespoke (20 Clinton Street), and soon in Merry Old England, in London of course. Prices range from 3500-5000rmb.
Keep your eyes peeled for local shows. Jane occasionally has sale prices at trunk shows, and she recently displayed her designs at Glamour Bar, and an American Women's Association event.
Qipao by Jane
Location: on Yuyuan road, lane 361, #48 (near the intersection of Yuyuan, Urumuqi, and Beijing Lu).