As Barack Obama stepped down from Air Force One in Shanghai last night, many in the US were apparently split on what kind of country was welcoming him.
The neocons - those who see the world as "we democracies versus you autocracies" - say he is on his way to kowtow to Beijing. Even the phrase "strategic assurance" used by some in the Obama administration has been picked up as a signal US hegemony could be ceded. What they believe is fundamentally old-fashioned thinking.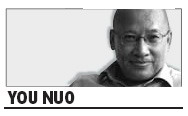 Meanwhile, the liberals in the US, who are still struggling with the consequences of a decade with an unregulated economy, seem to envy China's role as a banker receiving a profligate client. They worry it has changed the dynamic of the nations' relationship, and that the Chinese are now more interested in a visiting US president's credit standing than listening to him preach about so-called Western models.
Neither the former, nor the latter scenario sheds light on the countries' seemingly odd relationship.
As some cling to their dualistic, ideologically tinged world view, much of the world is changing. That is perhaps also why the idea of a United Nations for democracies, or something like that, failed to win the majority of support during last year's US presidential election.
Full Coverage:


 Obama Visits China
Related readings:

 Obama should address economic uncertainties


 Obama brings fortune to some in city


 Obama arrives in Shanghai for China visit


 Obama's exchange with youth to be aired live online
While there are governments that fail after claiming to be strong supporters of the US, faithful allies and even friends with democratic DNA, China, without claiming any of those, can only earn its respect in the world by working hard and relying primarily on its effort to improve its people's well-being, as well as by being a worthy competitor in the globalization game.
This was the Chinese way even when the nation was much poorer and weaker than today. History has shown that China is not only capable of change, it is changing itself fast.
Admittedly, there are plenty of poor people in this country, and corruption and lawlessness are still in the way. But no one can say such change comes easily or that something can be achieved in a nation boasting one-fifth of the world's population, and continued for more than 30 years, by a few lucky autocratic rulers.
In their guts, Americans appreciate serious competition and people who work their way to the top from humble beginnings. If China had stayed the way it was 30 years ago, Obama would not even have sent his brother to visit this land.
But being a worthy competitor also means a disdain for winning with petty tricks for immediate gains.
Indeed, one assurance China can immediately give to its US visitors is the anxiety the nation has earned by having lent so much to the latter. Foreign correspondents have all reported about the bickering among Chinese as to how dim-witted, if not unpatriotic, it is to provide so much finance to the US economic machine.
In a time of crisis, especially one accompanied by a credit crunch, who wants to be someone else's banker, even if they are invited to?
But even odder is that many people, both in China and in the US, tend to forget the fact that the two countries are not of just the past and present. More importantly, they will need each other in the future.
Just as during the past three decades, investment by US companies in China is said to be carried out through a belief in the future.
The same could also be true of China's current investment in the US.