Great expectations.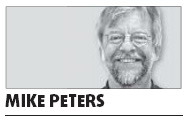 That could be the headline for the US president as he begins his trip to China. Mr Obama's agenda includes the global financial crisis and global warming, not to mention the challenge screaming from China's bookshelves: "Follow Barack Obama to Learn English". Talk about the audacity of hope!
He also comes to China at a time when an American family is mourning the death of a son in Beijing. Arun David Stewart, a young man who loved China, taught English to underprivileged migrant children and pursued his passion of learning Mandarin, was killed in a freak fall from a rooftop on Oct 31.
Nothing Obama can do will bring Stewart back, and I will leave it to others to exhort the president to take big, bold steps to curb emissions and reform currency barriers.
As an American recently arrived from the United States myself, my hopes and expectations will be more modest. In the short time he is here, I hope he can embrace China and its people as Stewart did. I have found Beijing to be energetic, modern, clean and full of people eager to welcome me as an American.


Full Coverage:


 Obama Visits China
Related readings:


 Obama arrives in Shanghai, kicking off China visit

 Obama's exchange with youth to be aired live online


 Obama hails expanded US engagement in Asia


 Chinese netizens welcome Obama's visit with thousands of questions
That's the China Stewart knew before he died just before his 21st birthday. At the time of his death, he was studying in the inter-university program for Chinese language studies at Tsinghua University in Beijing and he hoped to become fluent enough to perform standup comedy in Mandarin, according to media reports.
Three days will not allow the US president enough time to know China as Arun Stewart, whose life will be celebrated at a memorial service in Dallas today, did. But with his own open mind and heart, I think Obama will have no problem seeing the human face of China. High-five a few college kids, Mr President.

Sample a cold yogurt drink from a street vendor. Be careful of that bai jiu. And find new ways to engage with 1.3 billion people who are eager to be part of an emerging new world.