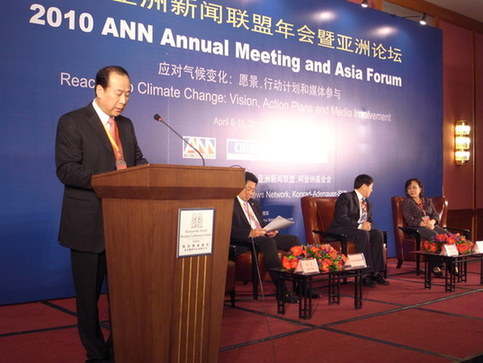 Zhu Ling, editor-in-chief of China Daily, gives a speech at Asia Forum 2010 in Beijing, April 8, 2010. [chinadaily.com.cn]
BEIJING - Governments should ensure climate change talks proceed in a "transparent and inclusive" way, while companies and media should enhance their involvement in green development.
That was the message highlighted at Thursday's Asia Forum 2010 in Beijing, which brought together government officials, business leaders and members of the media to "share knowledge of climate change trends among Asian countries and the future of green Asia".
The forum, themed "Reacting to Climate Change: Vision, Action Plans and Media Involvement", was organized by China Daily, Asia News Network – the alliance of 21 newspapers -- and German research foundation Konrad-Adenauer-Stiftung.
The forum is followed by the annual meeting of the Asian news alliance scheduled to open in Beijing on Friday.
Zhu Ling, editor-in-chief of China Daily, said there is no doubt that the media play a crucial role in spreading knowledge and education, and most importantly, building consensus.
"It ought to be our consensus that growth cannot be sustainable at the expense of our environment," he said.
Xie Zhenhua, China's top climate change negotiator, said the country would unswervingly carry out the sustainable development policy, actively push forward and adapt to climate-friendly developments.
"In the spirit of row-together-in-the-same-boat, we hope the international community could enhance their mutual trust and beef up the climate cooperation, so we could get to work out a better solution," Xie, also vice-chairman of the National Development and Reform Commission, the country's top economic planner, said in a written speech read out at the opening of the forum.
Also speaking at the forum, Thailand's Minister of Natural Resources and Environment Suwit Khunkitti said: "There is a large population in Asia who will suffer from the failure to arrive at meaningful solutions to climate change, many are the poor who are already suffering and carrying many social and economic burdens without the effect of climate change."
"We should continue to support climate change talks as a multilateral approach which provide a transparent and inclusive forum to address this global issue which is crucial to our future," the minister said.
Mahfuz Anam, Editor & Publisher of The Daily Star newspaper from Bangladesh, who moderated the forum's first session titled Common Challenges and Differentiated Responsibilities for Asia, said: "Climate change is something that we can't escape anymore. We are all vulnerable."
While the Asian economies continue to roar, the populous continent is also already lurching from one climate extreme to another, with people battling droughts, floods, food shortages, rising sea levels and diseases.
That was why Asian governments should enhance cooperation and focus their climate change mitigation and adaptation efforts first on combating weather extremes, said Zheng Guoguang, director of the China Meteorological Administration.
Asia is home to about 4 billion people or 60 percent of the world's population.
Global warming and changes to weather patterns are already occurring and there is enough excess carbon dioxide and other greenhouse gases in the atmosphere to drive climate change for decades to come.