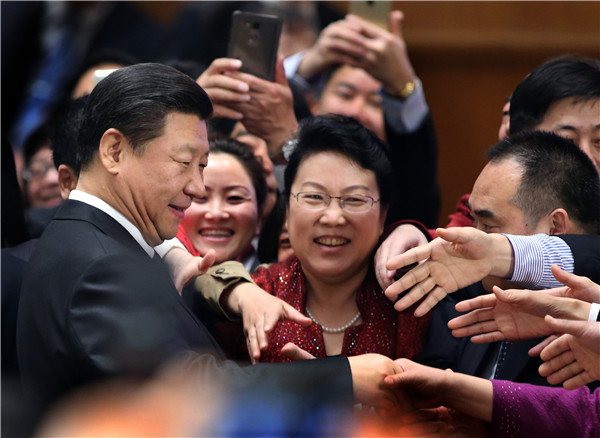 President Xi Jinping greets lawmakers at a preparatory meeting for the top legislature in the Great Hall of the People in Beijing on Friday. Wu Zhiyi / China Daily
President Xi Jinping pledged to grant wider market access to the country's private sector during a panel discussion with political advisers on Friday.
Speaking with members of the industrial commercial sector and a democratic party evolved from business and intellectual groups, Xi also urged the entrepreneurs to "abide by the law" and "take social responsibilities".
During the two-hour discussion, 10 political advisers made proposals on financing support, wider market access, lower taxation and fees as well as intellectual property rights.
Xi wasted no time in responding to them.
The country should try to solve the financing difficulties faced by small and medium-sized enterprises and provide them with "reliable, effective and convenient" services, Xi said.
He also emphasized that wider market access should be guaranteed for such enterprises.
"For those industries and sectors that are not explicitly prohibited by law for SMEs, private capital should be encouraged to enter," Xi told about 300 participants, including Internet guru Robin Li, CEO of search engine giant Baidu.
Xi added that those sectors that China has opened or promised to open to foreign investors should also be open to private capital.
He promised that a public service system will be set up to help private companies with technological advances and innovation.
He warned government officials not to abuse their power for personal gain or make power-for-money deals.
There have been a lot of bribery and corruption cases involving government officials and businesspeople reported by the media as the government has strengthened its anti-corruption drive.
Bai Chong'en, a political adviser and an expert on the economy from Tsinghua University who attended the panel discussion, said Xi's remarks send a strong signal and make the small and medium-sized enterprises more confident about their own growth.
Chen Zhilie, board chairman of Shenzhen-based EVOC High-Tech Holding Group, which specializes in military-use computer systems, said, "The remarks by Xi set my heart at rest, and I will share them with many of my fellow businesspeople."
Chen asked Xi for more market access during the meeting. "He replied to me directly. ... He clearly knows about the difficulties we face," Chen said.
China's private sector created more than 62 million jobs in the past two years.
Despite their strong growth, many small companies face difficulties in getting equal market access, such as in getting bank loans, as they compete with State-funded counterparts.