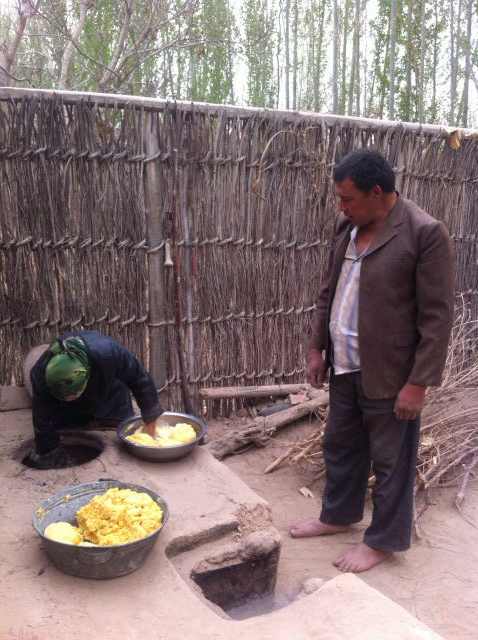 A Xinjiang farmer, Huduyum Berdi, stands barefoot as he watches his wife make naan, a kind of flat bread, in the yard of his home in Hotan city of Xinjiang Uygur autonomous region, on April 7. Huduyum Berdi's feet are 33 cm long and 12 cm wide and he thus requires European size 56 shoes. As he has only managed to find one pair of shoes his size in the last 20 years, he keeps them for special occasions, and usually wears slippers which are too small or remains barefoot. [Photo provided to chinadaily.com.cn]
URUMQI -- A poor Chinese farmer who has struggled to find shoes for his massive feet is being flooded with offers of footwear after the local government launched a campaign to ease his plight.
Huduyum Berdi, of Hetian prefecture in Northwest China's Xinjiang Uygur autonomous region, has feet measuring 33 cm long, meaning he needs a European size-56 shoe.
"Since I was 18, I have been unable to buy suitable shoes," said the 41-year-old. In the past 20-odd years, he has only found one pair of wearable leather shoes, which are now only trotted out for special occasions.
For the rest of the time, he wears cheap plastic slippers when doing farm work and has to stay at home barefoot on the coldest days of the year.
"When other villagers go to towns and cities for work in the slack season, I am trapped at home because I do not have shoes," said Huduyum Berdi, who is 185 cm tall.
As a father of three children, he has to fork out about 200 yuan (nearly $32) a week for them to go to school. His assets include 0.2 hectares of cropland, 50 date trees, 10 sheep and five geese. A pair of slippers costing five yuan is a luxury for this rural family.
Local officials first noticed Huduyum Berdi's troubles in late March. "On a very cold day in Hetian, we found him wearing only a pair of scruffy slippers on his cropland," said official Yang Guoqiang.
Yang was among 200,000 Xinjiang civil servants dispatched to rural areas in March under an initiative to improve the livelihood of residents there.
He and his colleagues scoured shopping malls in Hetian and regional capital Urumqi for size 56 shoes, but the largest they could find was a size 50.
An idea struck them. Using the official WeChat account of the local government's poverty-busting campaign, they posted a call for help in Huduyum Berdi's case. Since the original post in early April, strangers from home and abroad have replied with offers of assistance.
"We did not expect the post to attract so much attention. We have been bombarded with phone calls," said Wang Lili, an editor of the WeChat account.
Dai Junshi, owner of a shoe factory in Chongqing municipality is among those who have stepped in.
He contacted the local officials and said he would like to make shoes for Huduyum Berdi for the rest of his life. "China is one of the world's most important shoe manufacturers. How can a Chinese fail to find suitable shoes?" he asked.
Staff from the marketing department of sportswear manufacturer Li Ning have also been busy calling their suppliers. It has form in shodding high-profile big-foots, having made size-55 trainers for US basketball star Shaquille O'Neal.
"We have found a pair of size-55s. We will send them to Huduyum Berdi to see if they are suitable," a staff member said.
Internet user surnamed "Fangfang" said her grandma can make cloth shoes and is happy to stretch out her fabric and make two pairs for the needy farmer.
"I am so sorry to trouble these kind-hearted people, but I hope the price of the shoe is not more than 100 yuan," Huduyum Berdi said.
"When I have shoes, I can go to work in summer and winter and my kids can live a better life."