Cooperation with Kazakhstan enjoys broad prospect: Xi
Updated: 2013-09-08 10:29
(Xinhua)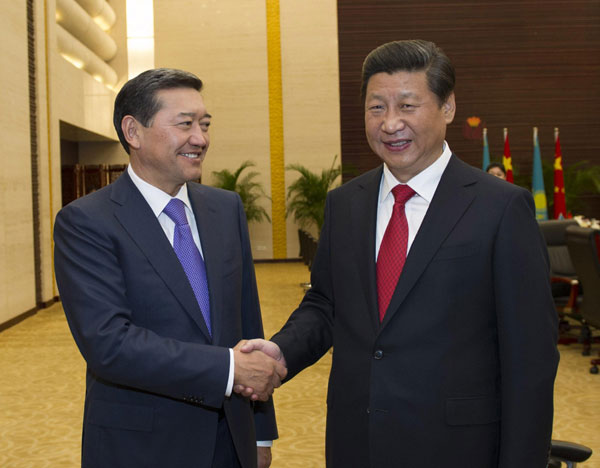 President Xi Jinping (R) meets with Kazakh Prime Minister Serik Akhmetov in Astana, Kazakhastan, Sept 7, 2013. [Photo/Xinhua]
ASTANA - Visiting President Xi Jinping said on Saturday that cooperation between China and Kazakhstan enjoys broad prospect and will certainly bring tangible benefits to the two peoples.
During a meeting with Kazakh Prime Minister Serik Akhmetov, Xi said cooperation between the two countries enjoys a natural advantage of complementarity and friendly political basis, and has always followed the principle of equality, mutual benefit and win-win results.
Both sides should effectively implement the mid- and long-term plan of the China-Kazakhstan economic and trade cooperation, and comprehensively improve the scale and quality of trade and investment cooperation, Xi said.
Both sides should also complete the expansion of China-Kazakhstan crude oil pipeline in accordance with the schedule and accelerate the C-line construction of the China-Central Asia gas pipeline, Xi said.
For his part, Akhmetov said the Chinese economy maintains sound development momentum, which provides more opportunities for bilateral cooperation.
The Kazakh government will work toward the target of $40 billion of two-way trade in 2015, he said.
Xi arrived here Friday for his first state visit to Kazakhstan after attending a Group of 20 summit in the Russian city of St Petersburg.