China is strategic partner to Russia: Putin
Updated: 2013-09-07 06:24
(Xinhua)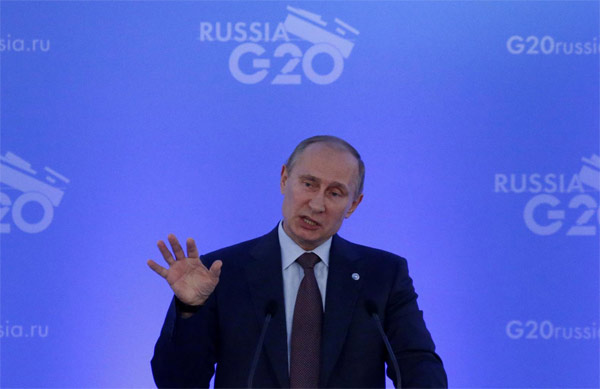 Russian President Vladimir Putin speaks to the media during a news conference at the G20 summit in St Petersburg September 6, 2013. [Photo/Agencies]
ST PETERSBURG, Russia - Russian President Vladimir Putin on Friday described China as his country's strategic partner both in trade and cooperation.
Addressing the press at the end of the two-day G20 summit here in St Petersburg, Putin said: "China is our strategic partner. This is evident not only in the volume of our trade. China is the No.1 trading partner for the Russian Federation."
However, Putin noted, China-Russia relationship is not confined in trade alone. "The two countries have expanded their cooperation into many other areas including high-technology. We are currently studying the possibility and we are actually making the very first steps in the cooperation of aviation industry, I mean, helicopters and wide-bodied passenger aircrafts."
The Russian president met his Chinese counterpart Xi Jinping on Thursday on the sidelines of G20 summit. The two met again at an informal meeting of the BRICS countries the same day.
While elaborating on Russia-China cooperation, Putin said the two countries have agreed to work together in areas such as agriculture, nuclear energy and high-technology.
"The two countries have cooperated in the (China) Tianwan nuclear power plant. Progress already entered the third and fourth blocks with probable more blocks to work together on," he added.
Putin disclosed that China and Russia have furthered their cooperation in fossil energy.
"There are big plans by Gazprom on supplying natural gas and liquefied gas (to China) and we already had a Chinese partner working in one of our largest oil/gas fields. Our company 'Novatek ' will work together with a Chinese partner on the Yamal Peninsula, which is one of the most promising areas for developing natural gas and oil."
The Russian president summarized the bilateral relationship by saying: "It goes without saying that China and Russia are coordinating and cooperating closely in politics and their common position in many issues is certainly one of the most important factors in international affairs of today."