President opens complex at Turkmenistan gas field
Updated: 2013-09-04 16:22
By Wu Jiao (chinadaily.com.cn)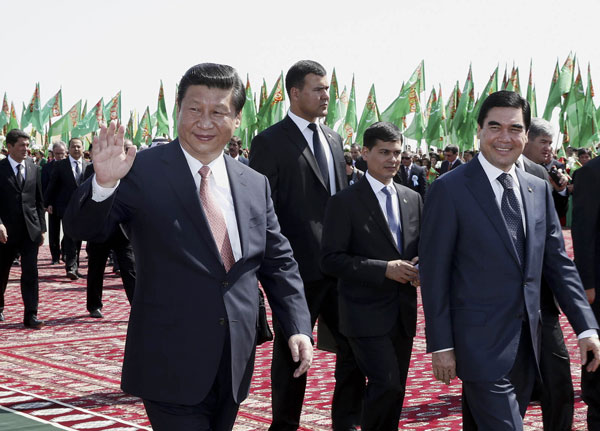 President Xi Jinping joins his Turkmen counterpart in opening a new complex of industrial buildings at the vast Galkynysh gas field in south Turkmenistan, Sept 4, 2013. [Photo/Xinhua]
President Xi Jinping on Wednesday joined his Turkmen counterpart in opening a new complex of industrial buildings at the vast Galkynysh gas field in south Turkmenistan.
The field is being jointly developed by China.
During a ceremony held at the gas field, Xi said Galkynysh is a successful model of win-win cooperation between China and Turkmenistan.
The new project will inject strong impetus into energy cooperation between the two nations, he said.
Turkmen President Gurbanguly Berdymukhamedov said energy cooperation with China proves that his country's energy diversification strategy is effective and successful.
Xi and Berdymukhamedov jointly inspected the gas field, which is estimated to hold 26 trillion cubic meters of gas and is the world's second-largest natural gas deposit.
Xi arrived in Turkmenistan on Tuesday to kick off his first-ever Central Asia visit as the leader of China.
The two countries issued a joint declaration, setting an annual gas supply goal of 65 billion cubic meters in 2016.
Turkmenistan, which neighbors Iran and Afghanistan, holds the world's fourth-largest natural gas reserves and possesses vast reserves of oil.