Energy partners boost gas supplies
Updated: 2013-09-04 01:41
By Wu Jiao and Li Xiaokun (China Daily)
Longest pipeline will help increase transportation of natural gas
China and Turkmenistan vowed on Tuesday to be "long-term, stable and reliable" energy partners and ensure the annual transport of 65 billion cubic meters of natural gas to China by 2016 through the world's longest natural gas pipeline.
President Xi Jinping and his Turkmen counterpart Gurbanguly Berdymukhamedov made the announcement in a joint declaration in Ashkhabad, the first stop of Xi's visit to Central Asia.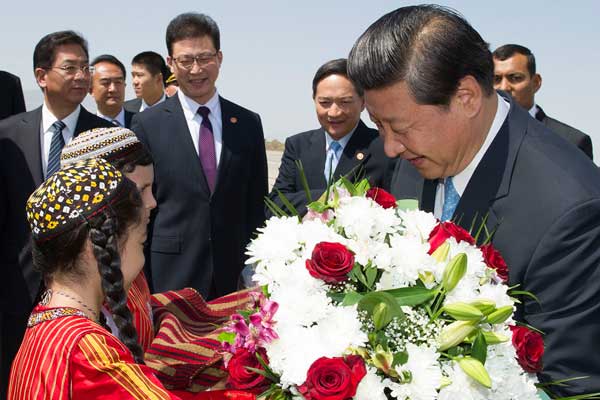 President Xi Jinping arrives in Ashkhabad, Turkmenistan, on Tuesday, the first stop of his first trip to Central Asia since he took office in March. Huang Jingwen / Xinhua
"The two countries will be long-term, stable and reliable energy partners," Xi said when meeting reporters with Berdymukhamedov. He described natural gas cooperation as strategic and forward-looking.A joint declaration announced the establishment of a strategic partnership between the two nations.
"Today is an important day for Turkmen-Sino relations. The two countries signed a joint declaration to raise the ties to a new level of strategic partnership. That means from today on, no matter how the regional and global situation changes, developing the Turkmen-Sino relationship will always be the priority of both nations," Berdymukhamedov told reporters.
The declaration also said the two nations will make joint efforts to build Line C and Line D of their natural gas pipeline to ensure the annual target of 65 billion cubic meters of gas is met by 2016.
They will also set up a cooperation mechanism to ensure security of the natural gas projects, the paper said.
Xi said the two nations will push forward cooperation in other fields including infrastructure, telecom and high-tech to make the relations "more comprehensive and balanced".
Relations between the two have grown smoothly since Beijing and Ashkhabad set up diplomatic ties in 1992.
China is Turkmenistan's largest trade partner. Trade hit $10.37 billion in 2012, almost double the figure in 2011.
Turkmenistan is China's major supplier of natural gas, and China is the largest overseas market for Turkmenistan's natural gas.
The two have put into operation the world's longest natural gas pipeline of more than 8,000 km.
Completed in 2009, the pipeline brings vital energy supplies through China's western region.
It is estimated that 400 million people in China benefit from natural gas from Turkmenistan.
Yang Cheng, deputy director of the Center for Russian Studies at East China Normal University in Shanghai, said Turkmenistan plays an important role in diversifying China's energy imports.
In addition, Turkmenistan helps restructure energy consumption in China, which is troubled by severe air pollution, partially as a result of coal burning, Yang said.
Former ambassador to Turkmenistan Wu Hongbin said that in recent years more and more Turkmenistan students are sent to study in China, especially in fields like high-tech.
"Turkmenistan is confident in China's economic and high-tech development," Wu said.
Shi Ze, a researcher on Central Asian studies at the China Institute of International Studies, said resource-based economies of Central Asian countries have placed high expectations on China as their export market.
"They are also in need of Chinese investment to upgrade their economies," Shi said.

Shi said aside from the huge potential in economic cooperation, Central Asia's location also grants the region a key role in geopolitics.
In addition to China, the United States, Russia and the European Union have all raised their strategies to explore relations with the region, Shi said.
Wang Lijiu, an expert at China Institutes of Contemporary International Relations, said security cooperation with Central Asian nations, including Turkmenistan, bears great significance for stability in western China.
China and Central Asian countries must enhance cooperation on security to prevent terrorists spreading into Central Asia and China after US troops retreat from Afghanistan in 2014.
Xi's Central Asia tour is his third international trip since taking office in March, and the first to this neighboring region.
The trip, lasting until Sept 13, will also take him to Kazakhstan, Uzbekistan and Kyrgyzstan.
Xi is also scheduled to attend the eighth Leaders' Summit of the G20, scheduled in Russia's St Petersburg from Thursday to Friday, as well as the summit of the Shanghai Cooperation Organization in Bishkek, capital of Kyrgyzstan, on Sept 13.
Mo Jingxi contributed to this story.