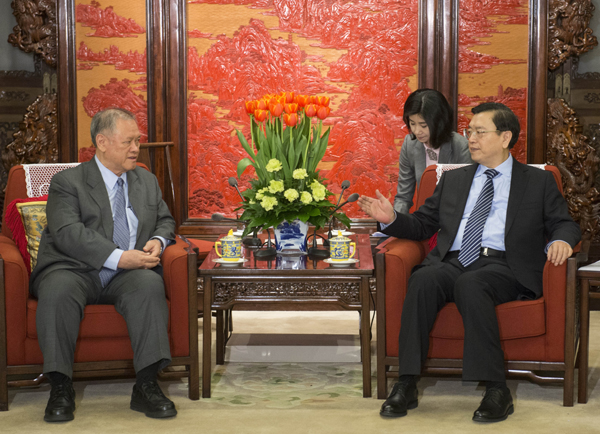 Zhang Dejiang (right) meets with Lim Jock Seng, Brunei's second minister of foreign affairs and trade, in Beijing on Jan 30. [Photo/Xinhua]
Zhang recalled that he could drink directly from a brook when he got thirsty while working as an "educated youth" in rural areas more than 40 years ago. "I'm afraid no one dares to drink directly from it now."
Zhang was sent to Luozigou Commune in Wangqing County in Jilin Province in 1968 to work as an "educated youth" -- a term referring to young intellectuals dispatched to the countryside from cities to learn from farmers during the Cultural Revolution (1966-1976).
Zhang held the post of chairman of the Standing Committee of the Jilin Provincial People's Congress, the provincial legislative body, while serving as Jilin's Party chief from 1995 to 1998. In this role, he attached great importance to legislative work.
In fact, he undertook much exploration to improve legislative work in his jurisdiction while serving in several provincial-level regions.
"(We) should always take enhancing and safeguarding the fundamental interests of the broadest mass of the people as both the starting point and goal of legislation," Zhang said in 2005 when he served as Party secretary of Guangdong, a booming economic province in south China.
He stressed the need to follow the mass line and adhere to a democratic, open and scientific legislative process while gradually expanding citizens' orderly participation in legislative work.
When he served as Party chief of southwest China's Chongqing Municipality, a post he held between March and November last year, Zhang reiterated the importance of cultivating a legal environment.
"Everyone is equal before the law and it is absolutely impermissible for any organization or individual to stand above the law," he said, calling for efforts to "resolutely prevent and oppose the practice of taking a person's words or power as a substitute for the law and intervening in individual cases."
He called for "enhanced awareness and capability to govern and serve the society through law and solve problems and settle disputes through legal means."
Noncommunist party members constitute an important part of the NPC Standing Committee.
When attending events held by noncommunist parties recently, Zhang expressed his hope that they would research and offer suggestions on topics including social management and governance by law since many of their members are specialists in the social and legal fields.