BEIJING - More than a hundred days after becoming a member of the top decision-making body of the ruling Communist Party of China (CPC), Zhang Dejiang was elected as China's top legislator on Thursday to lead the Standing Committee of the National People's Congress (NPC), the institution at the apex of state power in China.
As the ninth chairman of the NPC Standing Committee since the founding of the People's Republic of China in 1949, 66-year-old Zhang faces many heavy responsibilities as China increasingly emphasizes reliance on the rule of law to govern the country in the new era.
LEGAL PROMOTER
Reliance on the rule of law in governing the country is the CPC's basic policy in leading the people to rule the country.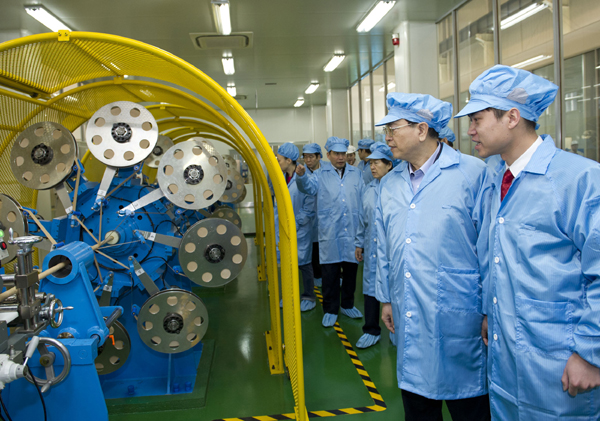 Zhang Dejiang (second from right) visits a laboratory on the application of superconducting technology at a plant of Futong Group in Tianjin on Feb 22. [Photo/Xinhua]
Zhang perceives the rule of law as the fruit of the progress of human civilization and the fundamental guarantee of a harmonious and healthy society and a prosperous and strong country.
The NPC is sovereign in China as it is authorized by the Constitution to elect the country's top leadership, enact laws and supervise the State Council, the Supreme People's Court and the Supreme People's Procuratorate. The NPC Standing Committee serves as its executive body when the NPC is not in session.
Since he was elected as a member of the Standing Committee of the Political Bureau of the CPC Central Committee in November last year, Zhang has reiterated several times the importance of stepping up the construction of the national democratic legal system and channeling every type of work through the legal system.
One of his major concerns is legislation in the field of the environment.
During a panel discussion on March 4 during the recently concluded annual session of the Chinese People's Political Consultative Conference (CPPCC) National Committee, the top political advisory body, Zhang acknowledged the necessity of environmental legislation.
"The heavy smog that shrouded north China including Beijing for several days has further heightened public concern about environmental protection," Zhang said.