Zhang Hanhui, director-general of the Foreign Ministry's Department of European-Central Asian Affairs, exchanged views with chinadaily.com.cn readers online on China's ties with Russia on Thursday afternoon.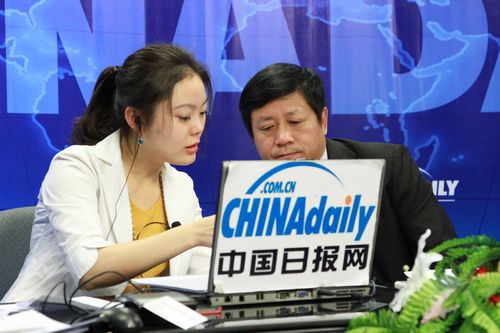 Zhang Hanhui (R), director-general of the Foreign Ministry's Department of European-Central Asian Affairs, looks at questions from chinadaily.com.cn readers during an online chat on Jan 12, 2012. [Photo/chinadaily.com.cn] 
Topic: China-Russia trade ties
Q: China and Russia just celebrated in 2011 the 10th anniversary of the signing of the China-Russia Treaty of Good-Neighborliness, Friendship and Cooperation. Chinese President Hu Jintao also visited Russia in June, followed by Russian Prime Minister Vladimir Putin's visit to China in October 2011. Please introduce the latest developments in China-Russia ties.
A: The year 2011 marks great achievements and an important phase of China-Russia relations, and both countries promoted the development of bilateral ties continuously, comprehensively, deeply and in a healthy way.
First, the two countries maintained high-level contacts and exchanged ideas on important international events and regional issues of common concerns.
Second, President Hu Jintao's state visit to Russia in June 2011 was a full success as both leaders agreed to upgrade the ties to a comprehensive, strategic and cooperative partnership, based on equality, mutual trust, mutual support, common prosperity and long-lasting friendship. China and Russia also decided to further deepen bilateral cooperation in trade and increase their trade volume to $100 billion by 2015 and $200 billion by 2020. This visit has instilled strong momentum for the development of bilateral relations.
Third, the two countries supported each other on important issues about sovereignty, safety and security, and development. This represented the strategic cooperation between the two countries.
Fourth, China and Russia have enhanced both the quantity and quality of bilateral cooperation, with the bilateral trade volume in 2011 increasing by 42.7 percent year on year to nearly $80 billion. The two sides also negotiated or carried out cooperative projects in energy, science and other areas.
Fifth, China and Russia strengthened cultural and educational exchanges.
Sixth, China and Russia cooperated strategically and closely on international and regional affairs, such as under the multilateral frameworks of the United Nations, the Shanghai Cooperation Organization, BRICS (Brazil, Russia, India, China and South Africa), and the Group of 20. This has safeguarded the common interests of both countries and also contributed to the peace, stability and development of the world.
Topic: Energy cooperation
Q: How much crude oil has China imported from Russia? What is the current situation of Sino-Russian natural gas cooperation?
A: Energy cooperation is an important part of the Sino-Russian strategic partnership and a key area of pragmatic cooperation between the two countries. China and Russia have signed a crude oil pipeline construction agreement and the project was put into use in early 2011. By the end of last year, a total of 15 million tons of crude oil had been transported to China through the pipeline; and the total amount is expected to reach 300 million tons in the coming two decades.
China and Russia are holding talks on natural gas pipeline construction and natural gas trade. Despite some differences, mainly price, the two countries with push for cooperation based on equality and mutual trust and understanding.
Sino-Russian cooperation in the fields of coal, nuclear energy, electric power and new energy has achieved substantial results and is moving forward.