Country ramps up healthcare spending

By Shan Juan (China Daily)
Updated: 2011-03-10 07:29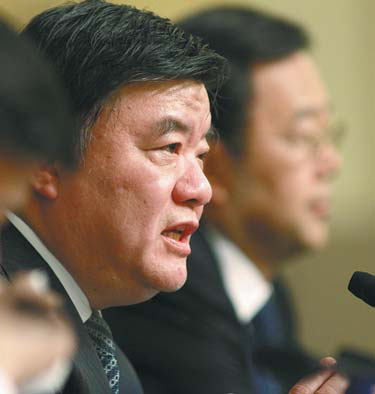 Minister of Health Chen Zhu answers a question during a news conference at Media Center in Beijing on Wednesday. [Photo/China Daily]
BEIJING - With the nation's medical insurance systems now covering 1.27 billion people out of the country's 1.34 billion inhabitants, key officials vowed on Wednesday to iron out wrinkles encountered by those seeking medical help.
Under ongoing medical reforms that largely started in 2009, the government has established a basic medical insurance system for non-working urban residents and a new rural cooperative medical care system. The systems benefit 432 million urban dwellers and 835 million rural residents who were not covered by medical insurance in the past.
And, as part of its drive to improve healthcare, the government now plans to spend 1.13 trillion yuan ($173 billion) on healthcare between 2009 and the end of this year.
Related readings:


 Hospital bed crisis for children


 The next big operation: medical travel


 'People first' governance bears fruits


 County's welfare projects give residents hope
The amount surpasses the previous plan to spend 850 billion yuan on healthcare during that time frame, Wang Jun, vice-minister of finance, said at a press conference held on the sidelines of the annual parliamentary session.
Sun Zhigang, director of the State Council Office of Medical Reform, said the extra spending will have a dramatic effect.
"With these efforts, China will soon deliver universal healthcare to all citizens and I am confident that the reforms will include solutions to hardships encountered by people seeking medical care," Sun said.
Vice-Minister of Health Huang Jiefu, however, cautioned that the government is not yet in a position to cover 100 percent of people's medical bills.
"The possibility of the government subsidizing the bulk of medical bills is quite slim considering the current situation," he said.
In 2010, China's total healthcare expenditure, according to the Ministry of Health, was about 2 trillion yuan on the mainland, which translated to about 1,400 yuan per capita.
Given that government subsidies amount to 120 yuan per person, he said people covered by insurance policies are still going to have to cover the lion's share of their medical bills.
He explained that the public should be properly informed about what the authorities currently can and cannot do.
"In the coming years, we'll further expand the coverage (of health insurance) to the entire population of 1.34 billion people and increase the reimbursement rate from the policies," said Minister of Health Chen Zhu.
But he conceded that efficiency will need to be boosted first and there will have to be enhanced supervision of money used because the government-supported fund remains quite limited compared to the public's demand for medical services.
In 2011, 8 million more Chinese will be covered by urban basic health insurance, added Hu Xiaoyi, vice-minister of the Ministry of Human Resources and Social Security, who was also speaking at the press conference.
That expansion will bring the total number of urban residents with health insurance to 440 million, which is 90 percent of urban residents. The number covered in 2010 was 432 million, according to a document released during the press conference.
Meanwhile, the government-supported fund will be increased to 200 yuan per person this year, according to the government work report delivered by Premier Wen Jiabao on March 5.
Regarding the rural cooperative health insurance system that was launched in 2003, Chen said the reimbursement cap for farmers will be raised from 30,000 yuan to 50,000 yuan this year, which is almost 10 times farmers' annual average net income per capita.
In addition, China will expand the pilot project that provides extra financial assistance to people suffering from severe diseases nationwide.
The current pilot project covers children with congenital heart disease and leukemia.
"We are now considering expanding the package to cover other diseases, such as breast cancer, cervical cancer and uremia," he said.