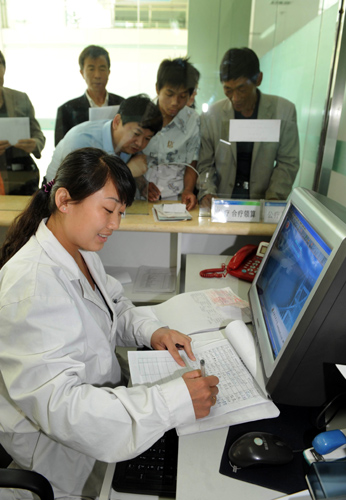 A worker at the medical clearance center in Shenmu county, Shaanxi province, processes refund registrations for local residents' medical expenses. [Photo/Xinhua]
SHENMU, Shaanxi - After years of suffering, Wang Xuehui, an 84-year-old farmer from Wangjia village of Shenmu county, Shaanxi province, has received his prostate surgery thanks to a county medical care program. The elderly man and his 64-year-old son, Wang Yanxiao, said they are exceptionally grateful for the new policy.
"We're poor farmers living in the mountainous southern area of the county and had no money for my father's treatment," Wang Yanxiao said.
"Thanks to this great policy, we only paid 400 yuan ($60), and the government paid the rest of the expenses, which totaled more than 10,000 yuan."
Shenmu County Hospital Vice-President Liu Xiaoyang said that, since the program began, his hospital had received many elderly patients from rural areas who rarely came before, even though they had serious diseases, such as leukemia and cancer. The government provides every patient with up to 300,000 yuan a year, depending on the treatments needed.
The county captivated national attention when its government began the pilot program to provide free medical care for its 420,000 residents in March 2009. Residents have enthusiastically applauded the program.
"We decided to invest 150 million yuan of county money a year to solve the problem of expensive medical treatment faced by most local residents," Shenmu county's mayor Lei Zhengxi said.
Shenmu is located in the northern swath of Northwest China's Shaanxi province and used to be one of the province's poorest counties. It became wealthy after large coal reserves were found in the late 1990s, and it developed power and chemical industries.
The chasm between the rapidly developing urban areas and impoverished countryside gave rise to a range of social problems and contradictions, forcing Shenmu county to change its governing philosophy, Lei said.
Since 2005, it has been carrying out a series of social welfare projects, focusing on education, healthcare and pensioners, to construct a stronger social security system.
In the past five years, the county has invested more than 150 million yuan to support free education from the primary to high school levels. It also has provided 5,000 yuan to each of its university students who cannot afford tuition for every semester.
The county paid 1.35 billion yuan for social welfare projects in 2009, and the funding for 2010 is expected to reach 2 billion yuan, which is about 60 percent of the county's fiscal revenue, Lei said.
"We'll not only satisfy people's material needs but also pay greater attention to their psychological feelings and spiritual pursuits," he said.