Career a slam dunk
Updated: 2011-08-16 08:02
By Cheng Yingqi (China Daily)
| | | | | | | | | | | |
| --- | --- | --- | --- | --- | --- | --- | --- | --- | --- | --- |
|   | | Comments() | | Print | | Mail | | Large Medium  Small | 分享按钮 | 0 |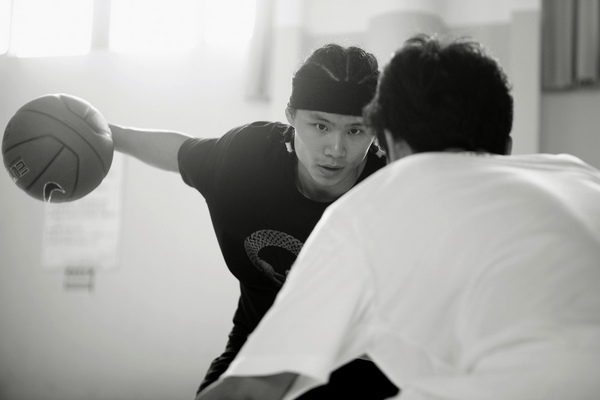 China's freestyle basketball star Wu You, 26, practices with a friend. [Provided to China Daily] 
BEIJING - Growing up when Michael Jordan was in his prime, Beijing native Wu You knew what he wanted to do.
"From the start, my goal was to make it to the NBA."
However, standing a mere 1.74 meters tall, he didn't stand a chance of playing for China's National Basketball Association, not to mention the National Basketball Association in the United States.
But that hasn't stopped him from having fans - thousands of them in fact - or from having a team of his own.
As an amateur on a public court in Beijing who has mastered the slam dunk and other stunts, Wu has become one of the most influential basketball stars in China. He is found frequently on TV programs, in commercial activities and freestyle basketball competitions.
"One thing I've learned over the years is that you can't call it a dream if your determination to chase it can be easily dwarfed by others' disapproval," said Wu, recalling the first time he thought of becoming a basketball player.
"I was in the fifth grade at primary school, I read the comics of Rukawa Kaede (a tall, skillful basketball player in a Japanese anime who won the hearts of hundreds of thousands young people in China in the 1980s). He was super cool - he didn't talk much, he was funny sometimes, and he played the best basketball," Wu said. "From that moment on I decided I would be him someday."
But few, including his parents, believed he stood a chance.
"I had no idea what a dunk was," he said. "I guessed it was about putting the basketball into the net."
However, Wu recalled, "the ball in my hand was so big. It felt like holding the globe up in the air."
Nevertheless, he told his father he wanted to slam dunk.
Though doubtful, his father make a basketball net with an adjustable height.
Wu first practiced with the net within his reach. After he was skilled at all the NBA moves like the windmill and 360-degree dunk, he raised the basket a little higher.
Wu had managed to learn various stunts performed by NBA stars by 2002, when he had the chance to meet Luis DaSilva - an American basketball player who has been referred to as the world's best ball handler and who headlined the 2001 Nike Freestyle ad campaign.
During a meeting between DaSilva and his fans in Beijing, Wu tried to summon his courage to jump on stage.
"He is Luis DaSilva, like a basketball god for me," Wu said. "Until the last minute I knew there would be no time, so I forced myself to jump on the stage because I wouldn't have a chance like this again."
Wu came up to DaSilva and said in Chinese: "I want to challenge you."
Wu showed a few tricks, like spinning the basketball on one finger, and then DaSilva did the same.
"At that moment I suddenly realized that the super basketball stars are just like me, they are real people, and they can communicate with me. I started to believe I might be good enough to compete with them someday," Wu said.
"If I didn't go onto the stage to challenge Luis DaSilva, I could be a totally different me today".
Wu would often ride his bicycle around basketball courts in Beijing to look for challenges.
"There are many famous amateur players. When I heard about one, I would come to challenge him. We always ended up as friends," Wu said.
So Wu founded his own team, named CL, with 23 of the players he met.
As the only full-time player on the team, Wu organizes activities and looks for sponsorship in addition to training twice a week and designing new moves for their freestyle show.
"For a while I wished I had superhuman power to handle so much work," Wu said, "but on the other hand, it is not bad to have extra skills such as planning a project, advertising and designing basketball-related products.
"If I am too old to play on the court someday, at least I can stay with my basketball career in other ways."
Hot Topics
Rainstorms cause flooding in Gannan Tibet autonomous prefecture, Gansu province, on August 15, 2011.