Like music under the bridge
Updated: 2011-08-04 07:20
By Wang Ying (China Daily)
| | | | | | | | | | | |
| --- | --- | --- | --- | --- | --- | --- | --- | --- | --- | --- |
|   | | Comments() | | Print | | Mail | | Large Medium  Small | 分享按钮 | 0 |
HAINING, Zhejiang - It's three o'clock in the afternoon, and Jing Wenbin and his students set up their makeshift classroom in an open space under a bridge in Haining, Zhejiang province.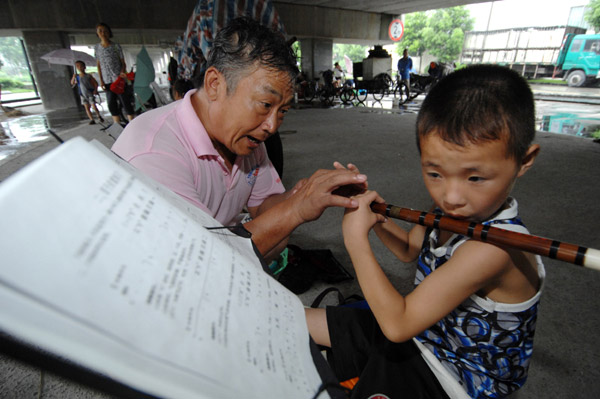 Jing Wenbin, a snack booth owner in Haining, Zhejiang province, teaches 7-year-old Li Yushun to play the flute under a bridge on July 19. [Photo/ Xinhua]
They place stools, take out instruments and tune them, open their music books and start playing.
"I have taught these kids for five years, and their skills progressed so fast that some of them were even invited to perform in public and attend contests," said Jing, 66.
A native of Yingkou in Northeast China's Liaoning province, Jing and his wife moved to the city in 2002 and set up a snack booth.
When the city banned all sidewalk food booths, they opened a small restaurant near a construction site, selling lunchboxes to the workers.
In his spare time, Jing played the flute and erhu, a two-stringed Chinese fiddle. Some local parents, impressed by his music, asked if he would like to teach their kids.
So he began to teach the children free of charge in the open yard of the restaurant, and after class even offered free meals for the students, a majority of whom came from less wealthy local families or migrant workers' families.
But when the construction workers left in 2007, he was left with little hope in the city and for the next two years, Jing and his wife's only income came from her trimming socks, earning one cent for one sock.
Finally, Jing decided to move back to Yingkou with his wife in April 2010.
"But I missed the kids a lot, especially as the music level test was arriving. Many students' parents kept calling, and asked me to come back," said Jing.
Jing returned in April this year, but this time student's parents started to pay him 200 yuan per month each.
However, it was extremely difficult to find a place to teach.
"They have moved to many different places, including communities, school's open spaces, etc, but can hardly find a tolerable place for their music class," said Wang Chaoying, a photographer who has been following Jing and his music class.
About half a month ago, Jing found this spacious place under the bridge and decided this would be the new classroom location.
"This location is a bit dangerous, as cars and vehicles come back and forth on the two sides. And whenever anyone needs to go to the toilet, Jing takes the student across the road," said Wang, the photographer.
Jing knows the location is not ideal.
"The vehicles shuttling through the bridge make a lot of noise," said Jing, who added that he really hopes to have a proper place to impart his music skills and dreams to his students.
"It doesn't have to be a good place, even if it is a storeroom which will protect our kids from the sun and rain, whether in winter or summer," he said.
Nine-year-old Chen Ye has been learning the erhu from Jing for two years.
"Learning under a bridge is indeed not a good enough environment," said Chen's father. "The reason that I nevertheless decided to let my girl come is that I trust Father (Jing)."
According to Chen, Jing treats the children like his own, and the kids are always invited to have dinner or lunch at Jing's rented house.
Jing is also responsible for picking the kids up in the morning from their home, and sending them back after class.
Among the 20 or so students under this bridge, most aged between 6 and 13, there are two adults wearing waiter's uniforms, each playing an instrument.
"I'm working at a hotpot restaurant nearby while waiting for my university admission notice," said 18-year-old Xue Jie. Xu said he loves the music, and decided to learn the cucurbit flute, an instrument popular among some ethnic people in Southwest China. Xu's colleague is learning the erhu.
Wang Qian, 13, sat on Jing's little three-wheel bicycle and played the erhu. After this summer, she will leave Haining for an art school in Hangzhou.
"Wang was in the same primary school as me, and I wish I can go to the same high school after I finish primary school," said fifth grade student Tang Shi.
Wang said she will visit as frequently as possible after she goes to school in Hangzhou. Both Tang and Wang have passed ninth grade flute.
"I love music," said the teacher. "Although I have achieved nothing in music, I really hope these kids can become somebody in the music world."