The Chairman's birthday, and mine
Updated: 2011-07-31 08:30
By Li Jing (China Daily)
| | | | | | | | | | | |
| --- | --- | --- | --- | --- | --- | --- | --- | --- | --- | --- |
|   | | Comments() | | Print | | Mail | | Large Medium  Small | 分享按钮 | 0 |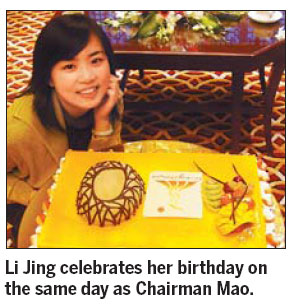 Young Hunan native Li Jing shares the same birthday as Chairman Mao Zedong. She tells us how it feels to be under the shadow of the most well-known man in China.
December 26. Yes, it's Boxing Day but in China, it is also remembered as the day Mao Zedong was born. And it's my birthday.
As far back as I can remember, my hometown in Hunan has celebrated the day with much activity. Hengyang is a second-tier city in Hunan province and we would have a varied program of Red Song concerts and the recitation of Chairman Mao's literary creations. On that morning, people all got up earlier than usual and volunteered to do street-cleaning for the whole city. It is partly because we are from Hunan, just like Mao Zedong.
It made me very proud as a child to share such glorious birthday honors, although I came into the world 89 years after he was born in 1893.
"Good fortune" and "a promising future" were often heard when my parents' friends learnt which day I was born. As a kid, I didn't have a clear idea of the logic behind such arguments, but I preferred to believe in the greetings and formed the habit of introducing myself this way: "My name is Li Jing and I was born on the same day as Grandfather Mao," I cheerily said, putting emphasis on the "Grandfather Mao".
At the time, it was enough that I enjoyed the enviable position of having a link to Chairman Mao.
Later, as I progressed to middle school, many of the birthday conventions faded and the date Dec 26 was no longer in the news. I figured my school friends were more willing to mark my birthday as one day after Christmas, rather than as Mao's birthday. Most had no idea when he was born, and I soon changed the way I introduced myself.
It was not until I was in the first year of my masters program that another unforgettable anniversary came. It was 2004, the 111th anniversary of Mao's birth. The freezing cold in Changsha was invasive and chilling to the bone, and Dec 26 might have been the coldest day that year, after days of rain and snow.
Exactly 111 families, mainly from Hunan, with a family member born on Dec 26, gathered at the Dongfanghong Square at Hunan University in Changsha.
Among them was my family. We were going on a pilgrimage to Mao's hometown in Shaoshan.
Each family had prepared a hand-made gift for Mao's anniversary as requested by the organizer, a local newspaper. My family's gift was a Mao poster with a line written at the bottom, "Chairman Mao is always alive in our memory."
Along the way, every family took turns singing Red songs from the revolutionary repertoire, and long before we arrived we heard bursts of firecrackers being fired, a warm welcome from local villagers, just as if we were relatives visiting from afar.
After being hosted to dinner at a Mao's Family Restaurant, we gathered under his bronze statue.
Standing in front of the imposing memorial, most of us went quiet, and some murmured softly and uttered a prayer, while other presented their prepared gifts. Locals told us that, on that day each year, Shaoshan would be packed with visitors and Mao's statue would be surrounded by flowers. Here, Mao Zedong's memory is always alive.
Since I left home for Beijing, I no longer mention our common birthday. If it crops up in conversation, it may more likely go this way:
"The same day, Really?! Which month?"
"December. Around Christmas."
"Dec 24, 25 or 26? No, it can't be on Christmas. Is it 24?"
"Dec 26." Finally, I have to give the right answer.
"So, what's Mao Zedong's star sign?" Yes, what interests them more is Mao's horoscope, and since we are both of the same star sign, most of them will proceed to give their expert analyses of our character. And yes, we are Capricorns.
You can contact the writer at lijing2009@chinadaily.com.cn.