Happiness is a pigsty
Updated: 2011-07-29 07:30
By Cheng Yingqi (China Daily)
| | | | | | | | | | | |
| --- | --- | --- | --- | --- | --- | --- | --- | --- | --- | --- |
|   | | Comments() | | Print | | Mail | | Large Medium  Small | 分享按钮 | 0 |
CHONGQING - One thing 26-year-old Liu Yu always said was that pork was essential for the dining table. Not surprisingly, he chose to breed pigs after college.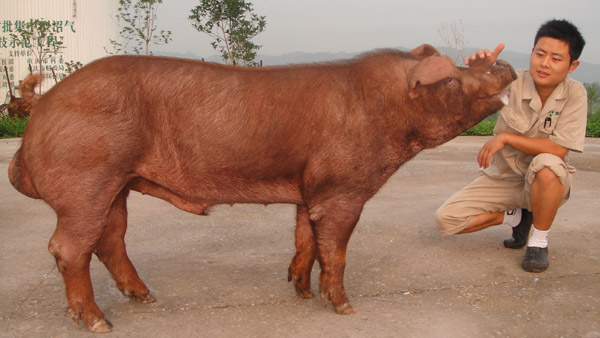 Liu Yu,26,a staff member with a farm for breeding pigs in Chongqing,plays with a pig on Wednesday morning. [Photo/China Daily]
"Some people believe that a decent job means a clean and comfortable work environment. But for me, my own commitment to the work is more important, which I can find here at the pig farm," Liu said.
Since 2007, Liu has worked in the breeding center of the Long Sheng company, a farm built on a hilltop surrounded by cliffs on three sides in a suburb of Chongqing. Liu is one of 28 staff there taking care of about 1,000 breeding pigs.
"I felt lucky to land the job because I'm only a college graduate, while most of my colleagues have a better educational background than me. Some even hold a master's degree," Liu said.
He remembers helping his parents raise pigs and cows when he was a young boy. He found pigs were "cute and honest animals".
"You need to be very patient with pigs. If you kick them, shout at them or drive them with a stick, they remember it," Liu said. "But if you treat them nicely, they are equally nice to you."
Every time when Liu steps into the sty, some pigs stand up and grunt like they are saying something, or jump as a little greeting.
"That is the happiest thing for me at work," Liu said.
Living in a dormitory only a few steps from the sty, Liu said he and his colleagues are used to the smell of the pigs.
Liu works everyday from 7:30 am to 11:30 am, and from 2:30 pm to 6:30 pm. His major responsibilities include feeding the pigs, cleaning the sty and breeding the pigs. After work, he likes surfing on the Internet and chatting with friends online.
"Most operations need the help of a computer, so the pig farm requires employees with higher education," Liu said.
When feeding the pigs, Liu calculates how much feed each pig needs on the basis of its body weight, sex and other factors like pregnancy.
Then he put jars, which usually hold 1.25 to 1.5 kg, in front of the pigs.
After this, he hits the switch, and the prepared feed will automatically fill the jars via pipes installed on the roof.
Besides the electronic-driven trough, pigs lead a modern life in other ways, said Liu.
They live in a disinfected house, bath daily, attend "kindergarten" and "primary school", and the only duty throughout their lives is bearing children, Liu explained.
"Different from commercial pigs, the breeding pigs here have their own identity number from birth. Putting the number into computers, you will find the genetic traits of each of them, and will see who are the best mating partners," Liu said.
"Usually one boar breeds with 25 to 30 sows, and the partners are fixed to make sure the piglets have the best inheritance," Liu said.
Upon pregnancy, the pigs will be transferred to special hog houses with air conditioning and pianist Lang Lang's music playing all day long. Baby pigs stay with their mother in the house for 28 days before they are sent to another house for weaning. Liu and his colleges call the house "kindergarten of the pigs".
After spending 42 days in kindergarten, the pigs are sent to "primary school", where they were put on tracks every day for exercise, and wait until they are more than 30 kg to enter a new cycle of breeding.
He said the most fun with the job was seeing a baby pig grow and develop friendships with people.
In the past, Chinese pig breeders fully depended on purchasing breeding pigs from abroad, because poor management caused the degeneration of the pig stock through unlimited inbreeding.
However, the beneficial heredity of imported pigs dies out after a few generations, so the keepers were forced to buy again and again.
"So we import pigs with pure genes, and promote breeding programs among different farms to expand the population," said Li Xuewei, head of the animal science department of Sichuan Agricultural University.
In 2008, the farm invested 8 million yuan ($1.2 million) to import 630 pigs from Canada to produce breeding pigs on their own, and has become one of the few farms that manage to maintain good genes of the imported pigs.
"The problem of imports appeared in recent years when people preferred higher leanness in pork," Liu said. "So cultivating high quality breeding pigs means a lot for improving the quality of pork in the country."