Getting better with age
Updated: 2011-07-28 07:01
By Wu Yiyao (China Daily)
| | | | | | | | | | | |
| --- | --- | --- | --- | --- | --- | --- | --- | --- | --- | --- |
|   | | Comments() | | Print | | Mail | | Large Medium  Small | 分享按钮 | 0 |
SHANGHAI - Over the past year, Tang Shengnan has shifted his lens from young brides at weddings to hundreds of aged residents in Shanghai.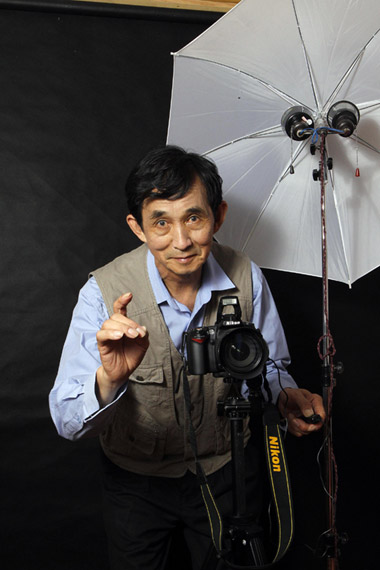 Tang Shengnan has been taking portrait pictures for people older than 75 for free in the past year in Shanghai. [China Daily]
People older than 75 also need the opportunity to show their charms, he said.
"The elderly can be as beautiful as the young, if not more so," said Tang, 66, presenting portrait pictures of a glamorous lady in her late 80s.
He has also taken photos for 106-year-old Qian Yanghui, one of the 10 Longevity Stars in Shanghai.
"In China, elderly people seldom have opportunities to take portrait pictures on one hand they think it is inauspicious, as only those dying need to take such pictures for preparation for their funerals; On the other hand, those who are willing to have pictures taken can't easily find photographers with patience and care for them," Tang said.
"But portraits are very important as they bring people a sense of identity and self-awareness," continued the photographer. "Without a decent portrait picture, one may feel that he or she has totally withdrawn from society and becomes isolated."
Tang began learning photography when he was 15. When he started to work as a railway engineer, he took thousands of pictures of trains and railways and employees at his workplace, the new Longhua railway station in Shanghai, which brought him numerous awards.
He was also among the first wedding photographers in Shanghai, often invited to record the best moments of the newly wed.
However, when he retired from work, he increasingly identified with senior citizens who have more time, but fewer opportunities, to discover joys of life, especially after spending years looking after both of his ailing parents until they passed away.
"Elderly people may feel a sense of seclusion and loneliness, especially when they retire," he said.
Since 2010, Tang has considered voluntary projects for the elderly.
In 2010, he spent the entire summer shooting pictures and video clips of the most popular exhibitions of Expo 2010 Shanghai and made a short film. He made hundreds of copies and delivered them to homes of the aged around Shanghai, who were unable to see the Expo for themselves.
In 2011, when he considered a new project for the well-being of senior citizens, his friend told him a story.
"He is a good son, having taken great care of his father until the old man died, but the family could not find a decent portrait of the deceased for the funeral except for a picture of passport photo size," Tang said.
Tang was not surprised to hear that, as he had heard similar stories several times, and he thought elderly people deserve opportunities to be beautifully presented.
"Nice pictures can bring the elderly confidence and love for their lives, to show that they are still vigorous and splendid," said Tang.
He sought help from a close friend who is good at writing, and made a promotion of his voluntary project called "Never Felt Prettier". He also asked some close friends to become his models, which he made into brochures to illustrate his competence.
Requests flooded in.
To shoot the photos, Tang borrowed a room from the residential community committee, where he set up a temporary studio.
He goes to the center every day and works six hours a day.
The staff members at the center help the elderly to put on makeup and change outfits.
"The most difficult thing is making my elderly friends smile with confidence, because many of them were quite nervous at the beginning," he said.
For those who had not taken a portrait for years, posing with a smile might feel unfamiliar.
"I talk to them, and try to encourage them by telling some jokes and make them laugh, saying something nice about their clothing, their manners and their accessories," he said.
When he heard that a 100-year-old grandmother surnamed Zhu also wanted to take pictures but could not come to the temporary studio due to sickness, Tang, with all his equipment, went to her place and took eight beautiful pictures at her bedside.
"Those who used to be shy and reluctant to express themselves gradually became expressive they not only brought several outfits for different poses, but brought jewelry such as brooches and necklaces," Tang said.
His pictures were applauded among all the elderly residents in the community.
"All the elderly are talking about the photo-taking events and of course I would love to have my own pictures, too which turned out to be very nice, and I am quite happy about it," said 106-year-old Qian.
"Tang's pictures are better than those taken at professional studios, just because he has the patience and care to observe and discover our best sides," said a resident surnamed Zhu.
After finishing the project, Tang said he plans to shoot photos for the elderly staying in retirement homes, like his sister.
"I visit her often and I have found that despite the well-equipped apartments with outstanding facilities and tender care of the nurses, some elderly people are unhappy they need to be understood, appreciated and loved," said Tang.