Meet the public face of meetings
Updated: 2011-07-22 07:56
By Zhou Wenting (China Daily)
| | | | | | | | | | | |
| --- | --- | --- | --- | --- | --- | --- | --- | --- | --- | --- |
|   | | Comments() | | Print | | Mail | | Large Medium  Small | 分享按钮 | 0 |
Beijing - Most people would have little interest in sitting through a public hearing.
Hu Litian can't seem to get enough - over the past seven years, the 64-year-old retiree has participated in 23 of them.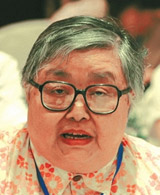 Hu Litian,64,participated in 23 public hearing over the past seven years.
"It's the sense of participation and achievement  that keeps me interested," said the native of Chengdu, capital of Sichuan province.
An outgoing personality, Hu says she has always enjoyed talking to people, especially in public.
In 2003, when she first read in a newspaper that the local government was recruiting volunteer representatives from local citizens to participate in a public hearing, she signed up but failed to secure a spot. However, she received a call in 2004 and was invited to her first hearing because she had already been listed in the "talent pool" for hearings.
"I'm a good speaker," she claimed, citing her years of experience as a primary school teacher. "More importantly, I'm a native of Chengdu and I care about the city's development."
The latest hearing Hu attended was on July 13, which was on increasing parking fees for vehicles in the city's downtown. As a car-free representative, she endorsed raising fees, but Hu argued that decision was based on extensive surveys and reaction of the masses rather than her personal idea.
"I phoned dozens of friends and relatives, and initiated discussions among various online instant messaging groups," said Hu, who learned to surf the Internet last year.
"I've become a sensation since then," she continued, giggling.
Her popularity has also led to accusations that she was planted in public hearings by the government.
"I'm not," she almost screamed, adding that she was pretty upset when she first heard the accusation.
But as interviews flooded in afterwards, she calmed down and even got excited.
"The more people pay attention to me, the more they will care about public hearings," Hu said.
"Moreover, now I have the chance to clear the fact that I'm not someone arranged by the government for hearings and I'm happy to see that Internet users' attitudes toward me have changed in the past few days."
Hu said sometimes she gets a 200-yuan ($31) research subsidy for each hearing, but in most cases she gets nothing.
She even traveled to Beijing at her own expense - 3,000 yuan, about three months of her pension - for a public hearing on compulsory traffic accident liability insurance in 2007.
"I wanted to see what a country-level hearing was," she said. "The trip was worthwhile. It's more meaningful than spending that amount of money only for travel. People may say I have attended a country-level meeting. How cool is that!"
In fact, apart from public hearings, Hu has also been active as an adjudicator for talent shows like the Super Girl contest by Hunan Satellite Television and My Hero by Shanghai-based Dragon TV.
She has been very excited about the coming days that are filled with interviews prompted by her popularity, including one in Shanghai on Friday and another for Beijing-based China Central Television next week.
"I'm glad the media is paying more attention to the public hearings," she told China Daily on Wednesday night. "But I have to hang up now. I will be on TV soon and I don't want to miss it."