Thumbs up for project?
Updated: 2011-07-21 07:50
By Qiu Quanlin (China Daily)
| | | | | | | | | | | |
| --- | --- | --- | --- | --- | --- | --- | --- | --- | --- | --- |
|   | | Comments() | | Print | | Mail | | Large Medium  Small | 分享按钮 | 0 |
Guangzhou - It is hard to associate Ou Jiayang, a soft-spoken fresh college graduate with a fair complexion, with someone who has launched a campaign confronting the local government on a feasibility report for a large lighting project.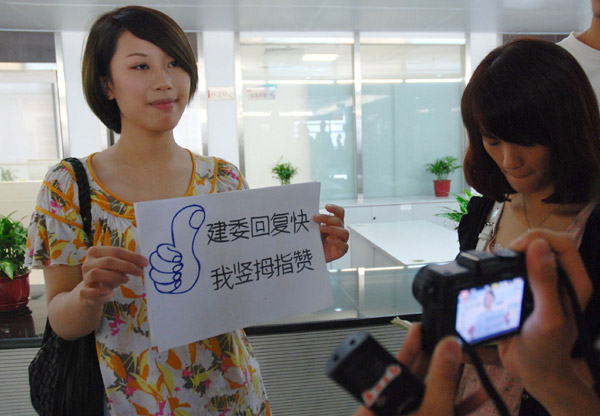 Ou Jiayang, 23, a fresh college graduate from Guangzhou, has become famous online as the "thumb girl". Luo Zhifeng / for China Daily
Ou, a 23-year-old Guangzhou native, has become famous online over the past two months as the "thumb girl", after she launched a micro blog where she hopes to collect 1,000 pictures of thumbs to support her request for local government to publicize the feasibility report for the project.
"I'm not saying 'no' to the project. But I want the government to tell me why the city needs further lighting along the river banks, given that a large amount of public money has already been invested in a similar project last year," Ou said.
On April 21, the Guangzhou Urban and Rural Construction Committee released a further urban facelift proposal, a 150-million-yuan ($23.2 million) lighting project that the city is planning for improved lighting along the banks of the Pearl River.
Under the proposed project, the areas near Haixinsha Square, Ersha Island and the Bai'etan Bar Street will be earmarked for improved lighting, while a 15 meter by 400 meter LED screen is to be erected around the Zhoutouzui Pier.
Within one week, an initiative led by Peng Yanhui, a 28-year-old local who shaved his hair as part of a protest against the lighting project, attracted a lot of media attention.
Peng, a Guangzhou resident who works for a non-governmental education organization, has launched a "brain is brighter" campaign by collecting 1,000 online pictures of shaved heads, against what he says is a waste of energy and taxpayers' money.
The next day the Guangzhou Urban and Rural Construction Committee published a written response saying the project is based on a feasibility report done in 2008.
Ou, who also works at a non-governmental organization in Guangzhou, said that as a native of the city she has paid close attention to the issue.
"I was thinking if there was a feasibility report, then why didn't the government publicize the report so that we could all get a clear idea of it," said Ou, who raised the issue with a few friends.
Her friends agreed but were afraid she might not be able to get a response unless she launched a campaign to "make a big splash".
"We were only joking and hadn't expected she would take it seriously," said Ou's friend and colleague Chen Du after seeing Ou open the micro blog on China's twitter-like service Sina Weibo on May 16.
"I didn't expect that so many reporters and netizens would talk with me about the issue. And I didn't know how big the pressure would be after the launch of the campaign," Ou said.
Since the opening of her micro blog, Ou has collected nearly 400 thumb photos. With increasing support, Ou said she felt the pressing need to ask the government for the feasibility report.
"What the government is going to do, in my opinion, is not all against the public interest," Ou told China Daily. "But most Guangzhou people want the government to publicize the report. Like me, they have the right to know how and why their money will be spent on the project."
Yet in comparison with the keen response she has received online and from the media, Ou had difficulty achieving success with the government.
For nearly two months she visited several government authorities to submit a petition letter for the publication of the feasibility report, but found herself being bounced from one place to another as everyone passed the buck.
In her desperation, Ou even sent a rubber ball and a pear to the relevant departments. The rubber ball alludes to officials shirking responsibility or pushing it to others. The pear, which has a similar pronunciation as "pressure" in Chinese, is meant to describe the pressure the government and public is giving her over the issue.
Ou's effort proved a success as Hou Yongquan, director of the Guangzhou Urban and Rural Construction Committee, invited her for a face-to-face meeting on July 7.
At the meeting, Hou said the lighting project is still being assessed and the feasibility report will be publicized once it is approved by the local government.
"I am satisfied with the quick response by the government," she said, who brushes off the accusation from some who say she is mainly seeking publicity for herself.
"I know what I'm doing, which is meaningful in the sense that it helps wake us normal citizens to an awareness of our rights to inquire and participate in society's construction.
"In fact, the worst thing I could have done is do nothing, only see things happen as if they had nothing to do with me."