Romantic still loves the buzz from beekeeping
Updated: 2011-07-12 07:26
By Li Wenfang (China Daily)
| | | | | | | | | | | |
| --- | --- | --- | --- | --- | --- | --- | --- | --- | --- | --- |
|   | | Comments() | | Print | | Mail | | Large Medium  Small | 分享按钮 | 0 |
GUANGZHOU - Bee farmer Zou Minghui believes he has the sweetest and most romantic job in the world.
With a bottomless supply of sugary honey at his fingertips and his days spent outdoors surrounded by flowers, he says it's easy to see why bee farming has been his big love for two decades.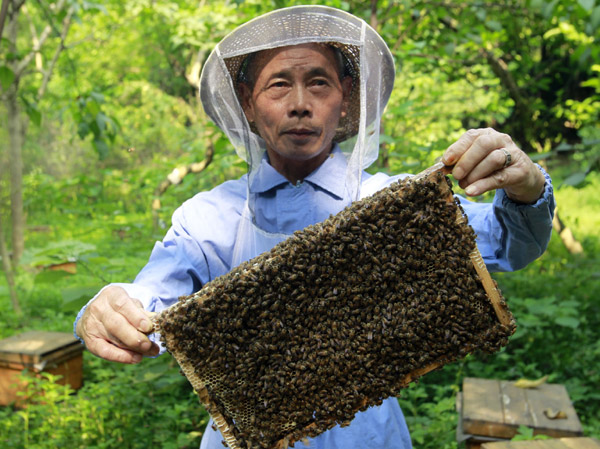 Beekeeper Zou Minghui, 61, who says he has one of the sweetest and most romantic jobs in the world, tends to a hive on Baiyun Mountain in Guangzhou, the capital of Guangdong province. Zou Zhongpin / China Daily
"I feel most confident with my bees and would not consider taking up any other profession after having spent 20 years with these sweet insects," Zou said, even though he admits not everyone shares his passion for the creatures that pack a powerful sting.
"At times in the beginning, I couldn't open my swollen eyes because they had stung me so much," he said. "My record one day was having more than 100 stings all over my body."
But Zou, who seems to see the best in everything, says even the stings are not as bad as people think.
He no longer feels the pain when he gets stung these days and he doesn't get any red swelling because he has built up his immunity.
Now, he simply brushes off the white venom and reminds himself that traditional Chinese medicine believes bee stings can cure rheumatoid arthritis.
The 61-year-old from Qingyuan, Guangdong province, says subtropical South China is the perfect place for a beekeeper because there are flowers blossoming throughout the year.
"We follow the bees as they follow the blooming flowers throughout the year," he said. "Now, doesn't that sound romantic?"
The year-round friendly climate means bee farmers are busy in all four seasons in the province. Zou said each bee season lasts about 20 days.
Another great part about keeping bees is the fact that he is left with enough time to farm crops during the periods when the bees are not busy making honey.
"That way, you can work all year round and feed your family," he said.
Zou says he enjoyed some of his best beekeeping seasons several years ago in the early 2000s.
The income went a long way toward providing for his family of three after he deducted the cost of his beehives, renting cars to transport them to the flower fields and the price of the flat frames inside the hives in which the bees deposit their honey.
These days, he earns 2,000 yuan ($300) a month overseeing a bee farm that is open to the public where he extracts honey in front of visitors and supplies elderly clients with bee venom free of charge for the treatment of their rheumatoid arthritis.
He feels happy to still be doing what he loves because many of his fellow bee farmers from back in his hometown abandoned the trade after they lost their flower pastures when farmers around them decided to grow more profitable and non-flowering crops.
"The changes mean a honey season or more each year has been lost," Zou said.
The loss of some of the habitat so loved by the bees and their keepers has meant that honey output in Qingyuan has fallen to one-third of the level it was prior to 2004.
Now, he says, some bee farmers in Guangdong are hauling their hives outside the province as they chase flowers that now grow elsewhere.
Zou said he first learned the almost nomadic lifestyle about 20 years ago from his sister's beekeeping husband and other veterans.
"I followed these experienced beekeepers and read some books offered by the government and, after a year, I felt I had learned enough to get started."
Each year, when the lychees bloom in April and as the medium-leaved eucalyptus flowers in October, Zou would hit the road in hired cars with his hives in search of the sweetest flowers.
He would camp out in a temporary structure close to his hives and socialize with other beekeepers who had also made the trip from all over the country.
The birth of his grandson in 2002 made him less eager to keep moving, chasing the flowers as he says, and after a brief hiatus, he resumed his beekeeping activities in 2004 on Baiyun Mountain in Guangzhou where he works for a company that runs a bee base and retailing store.
Today, he looks after hundreds of hives and needs to extract the honey from each active hive every three or four days during their short, productive seasons.
Back at the peak of his private beekeeping enterprise in 2001, he kept 220 hives and it took him two and a half days to work his way through them all extracting honey.
"When it's the high season, I work like a bee myself," Zou joked.
These days, he is no longer chasing the flowers now that he is working at the bee base on Baiyun Mountain.
Known as the lungs of Guangzhou, the mountain is heavily protected to ensure its continued biodiversity.
The environment, the fresh outdoor air and the proximity to those "sweet insects" all ensure he stays in love with his "romantic" job.
"But do you know what the best part about my job is?" he asks. "I get to drink the freshest honey every day."
Zheng Erqi contributed to this story.