Melody of life
Updated: 2011-07-10 09:29
By Zhang Xi (China Daily)
| | | | | | | | | | | |
| --- | --- | --- | --- | --- | --- | --- | --- | --- | --- | --- |
|   | | Comments() | | Print | | Mail | | Large Medium  Small | 分享按钮 | 0 |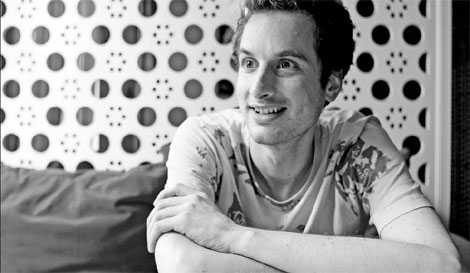 Chinese television celebrity Julien Gaudfroy is one of the most recognizable foreign faces in China. [Photo/Chinadaily]
A Frenchman tells Zhang Xi how a meeting with a Chinese group in Paris changed him forever.
When circumstance put an end to Julien Gaudfroy's first great love, the former musician discovered his passion for the Chinese language. Before carving out a career as a media personality in Beijing, the Frenchman was a professional cellist, studying at the prestigious Paris Conservatory with top classical players and conductors.
The gifted musician was forced to stop playing due to serious injuries eight years ago and decided to focus on the challenge of learning a new language.
With the same dedication that saw him rise to the top of European musical circles, Gaudfroy would not rest until he attained the level of a native speaker.
Those impeccable language skills, coupled with a good dose of charisma and keen sense of humor, has made Gaudfroy one of the most popular foreign entertainers on Chinese television.
Gaudfroy began studying Chinese in 1998 while still in France, after he met a group of Chinese musicians.
"By chance I was invited to dine with a group of visiting Taiwanese musicians in Paris. As the only Frenchman, I could not understand their conversations at all. So the next day, I bought a couple of Chinese language learning materials to study by myself," he says.
He soon created within his Paris apartment an "almost 100 percent Chinese environment" and with the assistance of his Chinese girlfriend at that time, studied at home for hours and engaged in conversation with any Chinese person he happened upon.
After months of self-study, Gaudfroy came to Shanghai in 1999. But rather than attending a language class, he chose to wander around the streets to fully experience the ancient country.
"I did not have specific purposes at that time. I simply wanted to know what the country was like," he says. "But one year later, my financial condition did not allow me to continue my stay so I went back to Paris, determined to devote myself to Chinese study."
The 32-year-old attributes his superb Chinese language ability to true grit and determination.
"Your natural talent for language only accounts for a small part of your achievement. All the rest is your persistence," he says. He admits that his natural gift for listening has helped learning the music-like Mandarin.
"When I was little, I could quickly figure out the tiny differences among similar sounds. That helped me in my studies of the cello and languages," he says.
Unlike most college language learners, who are taught the meaning of a word before being able to say it, Gaudfroy learnt Chinese in the reverse way.
"My philosophy is that language is all about imitation," he says. "We should learn to say and hear the words first, then understand the meaning later. Sometimes the more you think, the less you learn.
"If I teach you a word and tell you its meaning, say, 'computer', the only thing you'll remember after a few days is that I taught you a word, which means 'computer'. What was the word? Forgotten."
Gaudfroy says his French background might have something to do with his different learning path.
No matter the nationality of his friends, he encourages them all to develop their own innovative ideas rather than be just followers.
"That is how I describe my French fellows to Chinese," he says. "French people do not allow themselves to be mediocre.
"Even the gift sent to your girlfriend must be different from others.
"The French are thoughtful, decisive and outspoken, although sometimes they may not consider the results.
"They are good at finding social defects and then speaking out their dissatisfaction. They often demonstrate on the street to fight for their right."
However, he says, when people only concentrate on problems, they lose sight of the big picture.
They use demonstrations to fight for their rights for a better life, but during the process, they are not happy.
"That is different from Chinese, who are the founders of the traditional Asian ideology, which tells people to be tolerant of others," he says. "Chinese express their concerns as well, but after the complaint, they quickly return to their normal lives."
This is especially true in Beijing, his favorite city in China. "This is a city which allows residents to have time to sit down and think, unlike Hong Kong and Shanghai, where people are living at a fast pace," he says.
"I used to be a white-collar worker in Shanghai years ago but could not endure the 9-to-5 lifestyle. So I quit.
"Perhaps because I am a musician, I like Beijing's cultural history and relatively slow pace."
It is in the capital where Gaudfroy started his career hosting Chinese programs and married his beloved Chinese girlfriend, who has just given birth to their daughter.
"I was in the delivery room to witness the whole process. How amazing life is! I could not fight back my tears at that time," he says. "That was definitely the most unforgettable memory in my life. I am quite excited and happy right now."
As his career and family conditions take turns for the better, Gaudfroy is eyeing new opportunities. "I want to produce my own musical program rather than forever being a host," he says.
But before Gaudfroy starts a new direction, he is still busy maintaining the one he has.
"I do not have a typical work day. Sometimes I need to participate in several programs a day," he says. "Sometimes, I stay at home to prepare the material or watch sports programs or online video clips. Now I am interested in snooker and spend a lot of time playing."
Gaudfroy enjoys mixing with his French friends, especially on Bastille Day, but the conversation seems to always come back to his favorite subject: China.
"I know many French fellows here. Some work at enterprises, some are diplomats and some are without formal jobs," he says.
"But most can speak Chinese. I like to communicate with those who understand China, otherwise we do not have anything in common."
From Gaudfroy's perspective, there are three types of foreigners whose attitudes towards China are different.
Some truly understand what is happening in China, some really do not understand, and some understand, but pretend not to.
For the latter two types of people, "I do not bother to explain to them what China is really like. It's really up to everyone to find out for themselves."