Student defies parents to donate
Updated: 2011-07-09 07:56
By Chen Jia (China Daily)
| | | | | | | | | | | |
| --- | --- | --- | --- | --- | --- | --- | --- | --- | --- | --- |
|   | | Comments() | | Print | | Mail | | Large Medium  Small | 分享按钮 | 0 |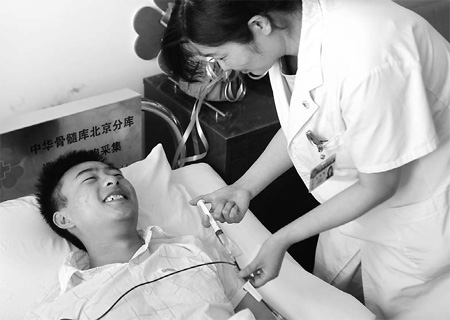 Tian Qiang, a student at Xiaogan University in Hubei, grins and bears it as he receives an injection from a nurse at the General Hospital of the People's Liberation Army Air Force in Beijing on Friday. Tian will donate his bone marrow stem cells to a 12-year-old boy suffering leukemia in Shanghai. Zou Hong / China Daily
BEIJING - Wearing a white shirt and camouflage trousers, 20-year-old Tian Qiang seemed a little nervous as the hour hand inched toward 8 am on Friday.
He was about to undertake a four-hour procedure to collect his bone marrow stem cells at the General Hospital of the People's Liberation Army Air Force in Beijing, which he was donating to save the life of 12-year-old boy with leukemia at Shanghai Daopei Hospital.
Despite having no appetite, he had some cakes and a bottle of milk as breakfast to help the procedure.
"My waist ached yesterday after four days of stem cell mobilizer, but I will be fine soon," he told China Daily. "I lied to my parents that I was going on a university-organized internship for a few days, as I don't want to worry them."
Tian is a sophomore at Xiaogan University in Hubei province and the only child in his family.
Tian registered with the China Marrow Donor Program (CMDP), a public welfare organization under the leadership of the Red Cross Society of China, in 2009, when he was a university freshman.
When he learned in May that a sample of his blood was a match for a boy with leukemia, he started exercising and playing basketball every week in order to provide the best quality stem cells.
His parents supported him until his grandma found out and strongly opposed his decision a few days before leaving for Beijing.
"But I insisted as it is about saving a life," he said.
Zhu Ling, Tian's attending physician at the hospital, explained: "The chance of a match is one in 100,000 among people who are not blood relatives.
"Tian's situation is good and we will only take 55 milliliters of blood from his body, which will not affect his health, " she said.
The traditional method of removing marrow is to take it from a donor's pelvis. However, five to six years ago hospitals have started to begin promoting the method of taking blood with bone marrow stem cells from arms, she said.
"Without Tian's stem cells, the boy will die waiting for a match," Li Weida, a doctor from Shanghai Daopei Hospital, told China Daily on Friday.
She is responsible for taking Tian's bone marrow stem cells back to Shanghai, and she brought Tian a letter from the boy's parents thanking him for his donation. Tian's university also re-scheduled his final-term exam to September so he could donate his stem cells.
"Tian is our 2,263rd marrow donor in the past 10 years," Zhang Sheng, an official from the Hubei branch of the CMDP who accompanied Tian to the capital city.
"We encourage more healthy citizens between 18 to 45 years old to become donors," he said.
The country has 1.28 million bone marrow stem cells donors and more than 4 million patients with acute myeloid leukemia, according to the CMDP.
China Daily
(China Daily 07/09/2011 page2)