Fish farmers find natural remedy
Updated: 2011-07-09 07:56
By Xie Chuanjiao and Dai Yan (China Daily)
| | | | | | | | | | | |
| --- | --- | --- | --- | --- | --- | --- | --- | --- | --- | --- |
|   | | Comments() | | Print | | Mail | | Large Medium  Small | 分享按钮 | 0 |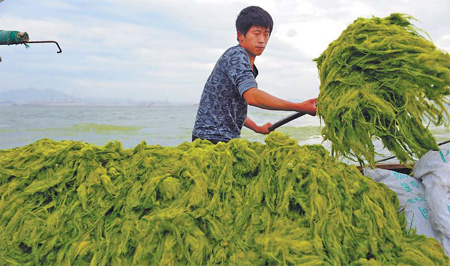 A man clears a pile of a species of green algae that blankets offshore areas of Qingdao, in East China's Shandong province, on Thursday. Over 10 days, authorities cleared 59 tons of the plankton that causes it from the waters. Yang Tongyu / for China Daily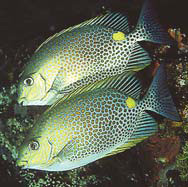 Siganus oramin, nicknamed lanziyu in China, inhabit the tropical and subtropical Indo-Pacific and eastern Mediterranean waters and feed on algae. File photo
QINGDAO, Shandong - Fish farmers in this coastal city of East China's Shandong province are raising a special fish in a pilot program to fight plankton, namely Enteromorpha prolifera, a species of green algae that has been invading the city's coastline since 2007.
"The fish like eating algae, and plankton is among their favorites," Chen Guobiao, a local fish farmer, told China Daily, after experimenting in a sea cucumber pond since May 2010.
Chen put 5,000 Siganus oramin, or nicknamed lanziyu in China, in his 2-hectare sea cucumber farm early in June, before the plankton had spread offshore Qingdao.
"As a result, hardly any plankton was seen in the farm in the following months and the fish did not harm the sea cucumbers," he said.
One experiment Chen and his co-workers conducted showed that 20 lanziyu could consume five kilograms of algae in less than 20 minutes.
He recalled that in June to September in recent years, the plankton clogged the farms. The algae die after a time and the resulting decay consumes much of the oxygen in the water, harming the growth of aquacultural products.
Farmers had to dedicate enormous resources to removing the green algae.
"In 2009, my company paid tens of thousands of yuan for the cleanup," Chen added.
Lanziyu inhabit the tropical and subtropical Indo-Pacific and eastern Mediterranean waters and feed on algae. So far, their use as a biological weapon against green algae - especially that from the swarms of plankton in some coastal areas of East China in recent years - has not been officially approved.
An algae bloom, reportedly to be 70 meters wide and 100 meters long, has blanketed the sea near Qingdao No 1 Beach, dyeing a ship's cable green.
But it is nothing compared with the 410-square-kilometer green algae bloom in the Yellow Sea being blown south by the wind toward Qingdao, said Liu Fenglin, spokesman with the North China Sea Branch (NCSB) of the State Oceanic Administration. It is expected to reach the beach in two days.
By 5 pm Wednesday, plankton was found in the Yellow Sea, including areas of Qingdao, Rizhao, Yantai and Weihai cities of east Shandong, Liu said on Friday at a news conference.
The NCSB has raised the alert level and continued monitoring the algae's movement by satellite, airplane and ship.
Algae are not toxic or polluting, but the blooms ravage the ecosystem because they consumes large quantities of oxygen, suffocating other marine life.
An expanse of green algae has swept ashore on the beaches of the coastal tourist destination in Qingdao, disappointing beachgoers, who expected clear blue water.
"We got tens of thousands of plastic bags ready to remove the algae quickly so that swimmers won't be affected," said Tang Wenzhou, head of beach management department of Qingdao No 1 Beach Area of downtown Qingdao.
On Wednesday morning, Tang and his colleagues started the cleanup, and more than 100 bags weighing in all 30-plus tons have been filled. The water looked clear after the effort.
"We have not been disturbed by the green algae. I swim here as usual," said local swimmer Zhao Xiaowei, 32.
Local authorities have come up with various ways to fight Enteromorpha prolifera in the past few years.
Last month, the Qingdao city government released a precautionary plan of emergency measures against a large-scale algae outbreak, demanding around-the-clock monitoring of the algae's spread.
Authorities have organized 52 patrol boats to cope with large swarms of plankton. In the past 10 days, a total of 59 tons of plankton have been collected, according to a report by the Qingdao city's ocean and fisheries bureau on Friday.
Professor Bao Xianwen from the Qingdao-based Ocean University of China said research centers have yet to figure out the reason for the feverish growth of algae in recent years.
"We don't know where it originated and why it's suddenly growing so rapidly," Bao said.
"It must have something to do with the change in the environment, but we are not scientifically sure of the reasons."
China Daily
(China Daily 07/09/2011 page3)