All aboard new career
Updated: 2011-06-21 08:27
By Wu Yiyao (China Daily)
| | | | | | | | | | | |
| --- | --- | --- | --- | --- | --- | --- | --- | --- | --- | --- |
|   | | Comments() | | Print | | Mail | | Large Medium  Small | 分享按钮 | 0 |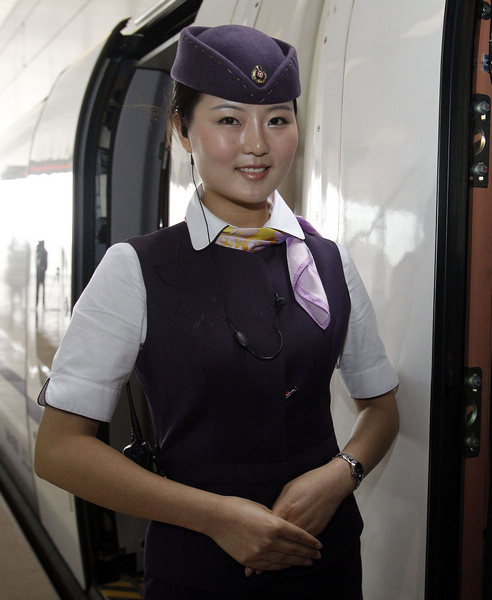 Guo Chaonan, 20, a new graduate majoring in air flight service, will serve on the Beijing-Shanghai high-speed train. [Yong Kai / for China Daily]
SHANGHAI - Guo Chaonan's childhood dream was to fly the skies.
Instead she'll be riding the rails.
"When I applied to airline companies in the summer of 2010, my sister, who has worked on trains for several years, told me that perhaps working on the Beijing-Shanghai high-speed train would be a better idea," said the 20-year-old who graduated last summer with a diploma in air flight service.
At the time, the Shanghai Railway Bureau was recruiting new employees for the Beijing-Shanghai high-speed train, which will start running by the end of the month.
"I hesitated a little bit, because I had spent several years preparing to work in the air, not on the ground. But as I thought it over, especially looking on my sister's life as a train attendant, I decided to follow her path," she said.
"Moreover, it's the high-speed train, the so-called 'flight on the ground,'" Guo added, referring to the nickname the high-speed train has gained for its ability to hit speeds of 350 km/h.
Guo learned about the train's features, like its VIP coaches, business class and barrier-free facilities for the disabled, before she made her career choice.
"My sister was right. The facilities and working environment in a high-speed train are comparable to, even more comfortable than, those in an airplane," Guo said.
"I fell in love with the train immediately," she said, recalling her first time onboard a high-speed train last summer.
Guo said she was convinced by her sister - who has been working on a train line linking Guangdong's capital city Guangzhou and Zhuzhou, Guo's hometown in Hunan province - that working on a train allows one to maintain a good balance between life and work.
"In comparison with airlines, trains are more reliable, usually sticking to a regular schedule. I can arrange my rest hours in advance based on the schedule, but it would be far more difficult for me to plan ahead if I worked for an airline - you never know if there would be a delay or a cancellation of an airline because weather is unpredictable," Guo said.
After several rounds of selection beginning in October 2010, Guo stood out from 3,000 applicants and became one of the 270 new employees.
All are aged 19 to 22, taller than 165 cm, hold a college diploma, and are fluent in both mandarin Chinese and English.
Guo said the competition was fierce, even more than she had expected for becoming a stewardess.
"I was glad that I made it. But there was no time for me to panic or celebrate as the training program started immediately," she said.
Each successful candidate had to pass 36 modules including theoretical knowledge, first aid and on-board practice before they could work on the trains, Guo said.
"Take smiling for example. Train attendants are required to expose six to eight teeth, and make eye contact with passengers," she said.
And the most often used training measure was to hold a chopstick between their teeth.
"I realized that smiling in such way makes us look much better, which shortens the distance between attendants and passengers," she said.
After about two months of intensive training, Guo started to work on the Shanghai-Naning high-speed train at the end of 2010.
"On-board practice is quite different from classroom training. You have to improvise to make a journey as enjoyable as possible for passengers," she said.
The major difference between serving in the air and on a train is that there are many more passengers in train coaches than on an aircraft, which requires more patience and paying attention to each individual's needs, Guo said.
For example, many passengers like to take a nap after lunch, so it is important to walk very quietly so as not to wake them up, but the attendants must still be prepared to answer their requests quickly.
Once a passenger with a second-class ticket wanted to sit in the first class, but all the seats in the first class coach were occupied.
"He got really angry and said that train attendants were snobs who care only about money," Guo said.
"I was quite upset. Growing up as the apple of my parents' eyes, I had never been rebuked in public before. But I realized that it's also a part of our work and I was obliged to listen to whatever passengers want to say."
Guo expects to develop her career path on the top-brand route linking the financial and political centers of China.
"I feel more than lucky that I can work for the train - it's a great honor for me," she said, adding that she looks forward to 2012 when she will be able to sit an examination to become a conductor.
"I'm young, the train is new, there must be many things for me to do for the train," she said.